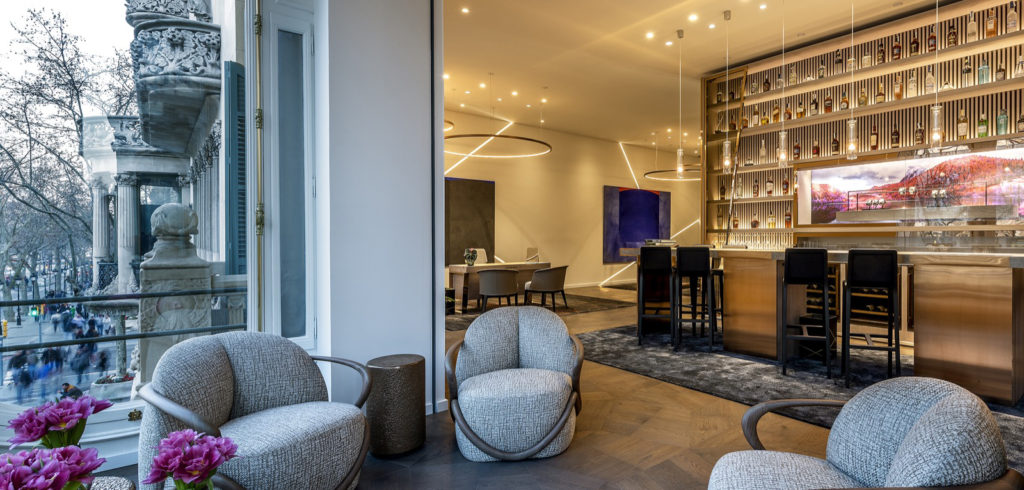 The Audemars Piguet private apartment, designed to cater to clients in a space more akin to a lounge or penthouse apartment than a luxury watch boutique, is located on the first floor of 37 Paseo de Gracia (within walking distance from iconic Casa Battlò building).
It features architecture and interior design that reflects the styling you find in their flagship boutiques around the world. In addition to being able to relax and look at the "timepieces", the lounge will host to exclusive events where guests can discover and learn about the company's history and creations.
Guests will be able to use the many spaces in a relaxed and informal way, as well as invite friends for lunch, or organize a business meeting; they can take a seat, relax and chill out if that's where the mood takes them.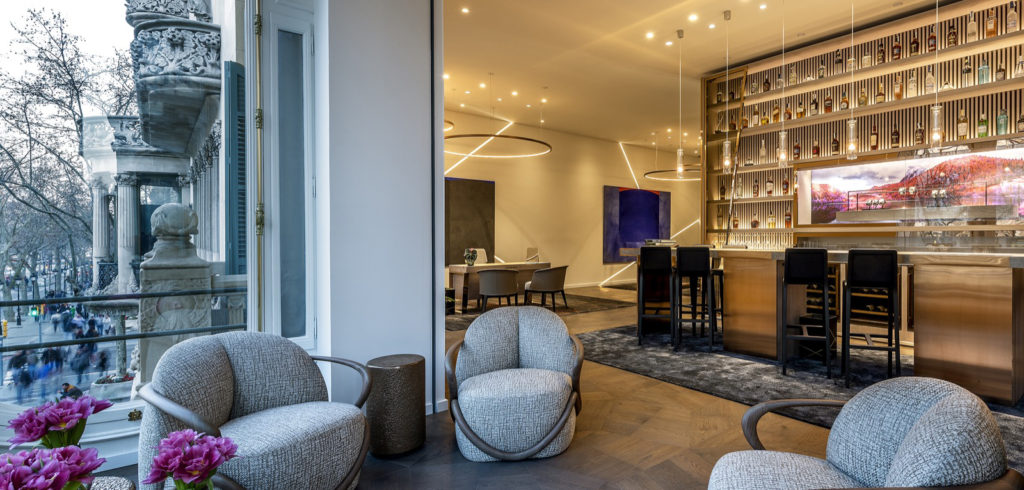 Since its Foundation in 1875 Audemars Piguet has believed that watchmaking is tightly connected to culture and central to new artistic disciplines, something that's evident in the design of the Swiss Manufacture's newest private apartment in central Barcelona.
It is more a private club or a salon, than a retail space, imbued by a strong spirit of contemporary design. Visitors are encouraged to relax, reflect, connect or disconnect, as well as discover Audemars Piguet's universe through a variety of events, including musical performances, art exhibitions or dedicated workshops.
'We wanted to create a sense of comfort, intimacy and belonging for our family of customers and friends,' explains Brian Lavio, Country General Manager de Audemars Piguet Iberia 'a space where we can host cultural experiences for our guests, as well as showing our latest timepieces, relax and enjoy the space and experience.'
Interni Barcelona takes it a step further and adds a new interesting piece to this complex puzzle conveying SLIDE wood floor contemporary spirit to the project. The concept is based on the idea of a rectangle cut in two by a diagonal that generates two rectangular trapeziums. These combine with each other in numerous ways, generating countless configurations.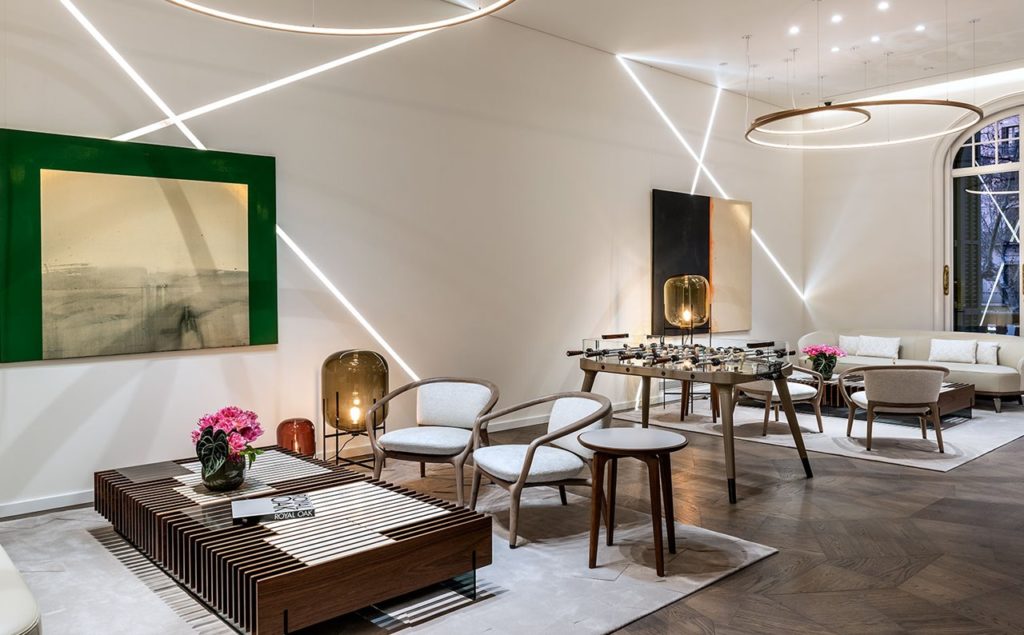 The shapes of the trapeziums are designed with the intention of generating a whole that is balanced yet always different, creating an "intriguing" pattern. it is a unique, unconventional floor with an irregular pattern, triggering the impression of causality of forms which seem to be many but in reality are only two.
READ ALSO – Penthouse One-11: the sinuous Zaha Hadid watchtower at Citylife
The display in this contemporary apartment blends design with comfort, narrates the unique encounters the Manufacture fosters among fields of creative practice.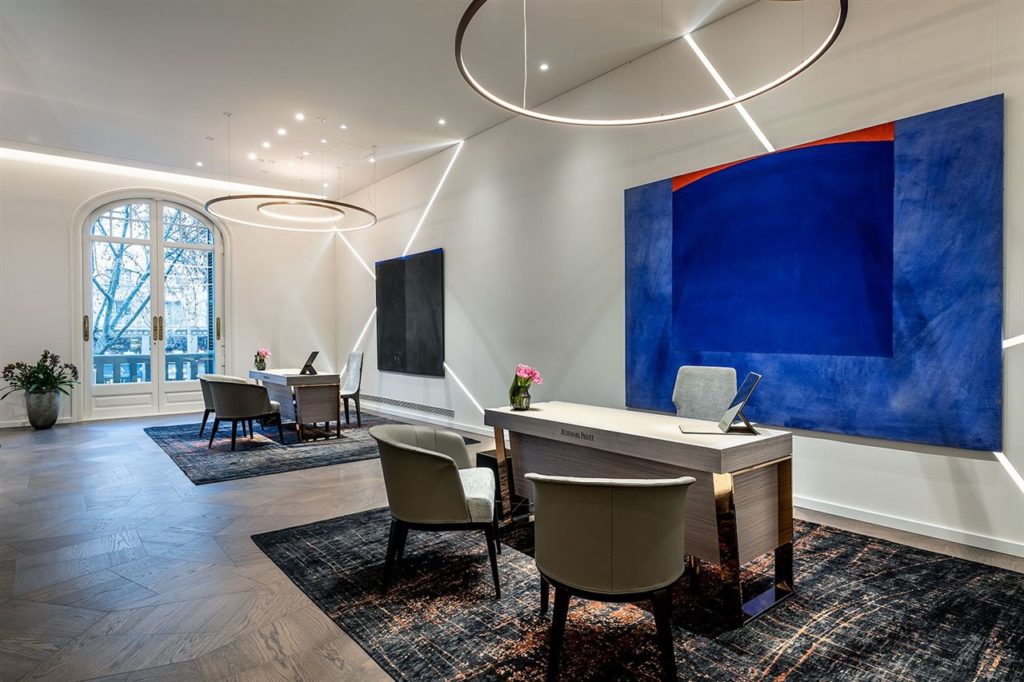 In Audemars Piguet's vision, 'art' and 'artisanship' are coalesced through the journey of the brand's timepieces from their creation at the Le Brassus Manufacture in Switzerland, to the clients all over the world. Their timepieces juggle with technique and technology, artisanship and art. Watches that are in "charge" of the immaterial value of time shifting from the present to the future with their roots in the past.
And this is why objects of time measurement are different from all other objects of culture. They have a utilitarian function, as well as being objects of great design and aesthetics. Mechanical watches are among the last objects of permanence in an era of obsolescence.
AP's association with culture, art and the latest technology can be traced back to the 1889 Exposition Universelle in Paris. Jules Louis Audemars and Edward Auguste Piguet, young graduates attended the Exposition, purveying Grand Complication pocket watches for men and miniature repeaters for women, but also nurturing a cultural trajectory for their company and a global distribution network for an artistically inclined clientele.
Following the debut of the Eiffel Tower, this exhibition attracted around 40 million people, including the likes of Edgar Degas, Vincent van Gogh, Edvard Munch, Thomas Edison, Nikola Tesla and Claude Debussy.
Constantly looking ahead, Audemars Piguet continues to envision the future and perpetuate the craftsmanship "dream" of its founders, generation after generation.
---