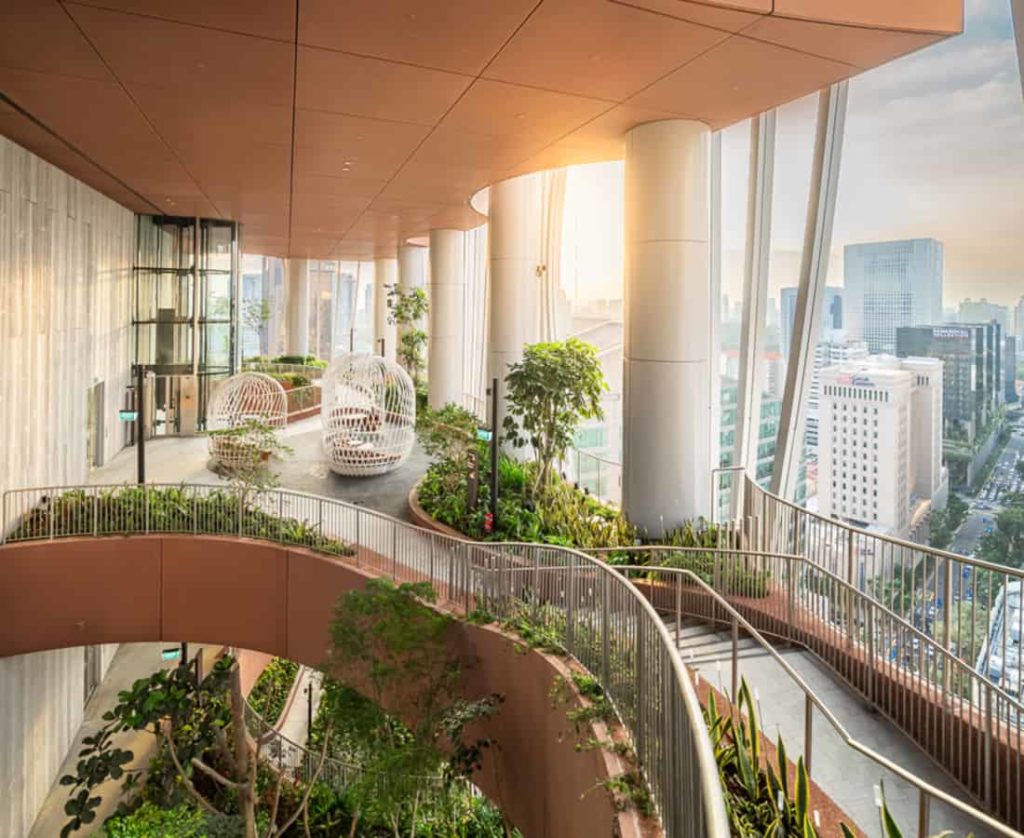 CapitaSpring was designed by BIG and Carlo Ratti Associates.
One of the goals of biophilic design is to give back to human beings living in urban environments the possibility of maintaining contact with Nature. The CapitaSpring skyscraper has definitely achieved its goal – as a form of evolutionary adaptation- .
Biophilia is twofold in meaning, signifying love for living creatures (life) and love for Nature (Life), understood as the whole of living creatures. So love of "Nature" with a capital "N" to refer to the biosphere and the abiotic matrices such as soil, air and water on which it flourishes. This is fundamental to the development of harmonious relationships between humans and the biosphere.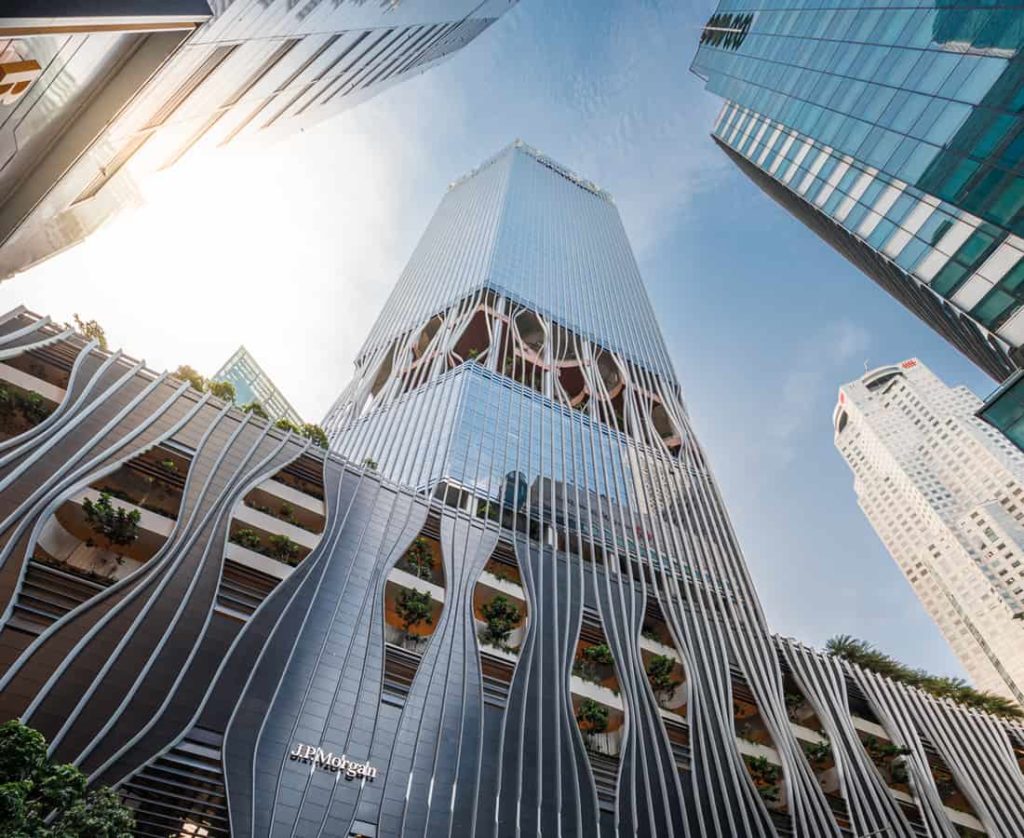 This process encompasses frequent contact with Nature and this can have positive effects on our physical and mental health. In consideration of the evolutionary roots of this architectural approach, biophilia is an effective way of planning/designing interior and urban environments to stimulate individuals' innate biophilia. Wilson used the term biophilia to describe the evolutionary adaptation traits that enable us to develop a mental link with the living world.
Located in the heart of Singapore's financial district, on the site of a former public car park and hawker center, 51-storey CapitaSpring is now officially complete, after four years of construction and an international tender won by Bjarke Ingels and Carlo Ratti. The mixed-use tower features residential units, offices and retail space covering a 93,000-square-meter surface.
READ ALSO – A contemporary Grand Tour in the heart of Italy
The space is defined by a dynamic interplay of orthogonal lines, lush greenery and contrasting textures. In addition to its abundant sky-gardens and rooftop park, CapitaSpring includes a premium Citadines serviced residence, a hawker center, restaurants and public spaces.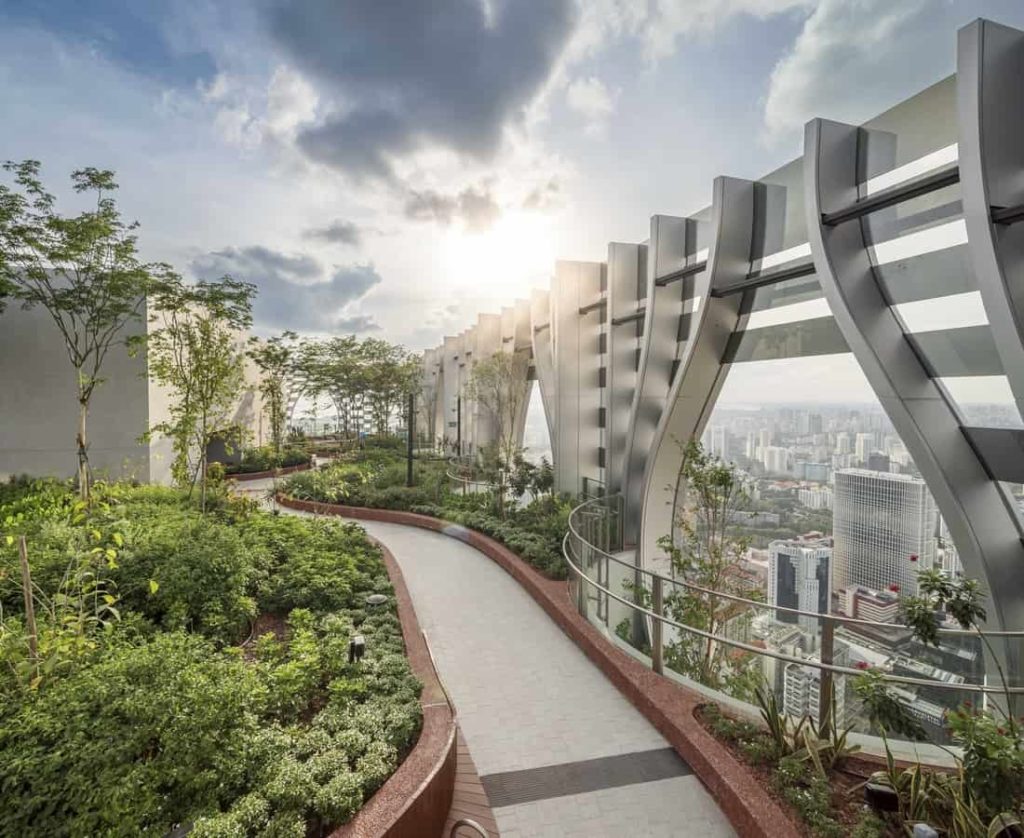 At multiple elevations, the vertical elements comprising the building's exterior are pulled apart to allow glimpses into verdant oases blooming from the base and core, and rooftop "sky garden." The tower reinforces Singapore's reputation as a garden city, housing over 80,000 plants, with a Green Plot Ratio translating to a total landscaped area of more than 90,000 square feet, equivalent to 140% of its site area.
On street level, CapitaSpring restores a portion of the historically significant Market Street to the public realm by pedestrianizing the stretch and creating an expanded landscaped area which creates new green breathing spaces in the high-density financial district for the community.
READ ALSO – Alberni by kengo Kuma tower is the architectural twist to be soon unveiled in Vancouver
The first eight floors of the tower are taken up with the serviced residence including a wide range of facilities such as a swimming pool, jogging track, gymnasium, social kitchen and residents' lounge. The top 29 floors offer premium office spaces affording panoramic views of the Singapore River and Marina Bay.
At the core of the building, between the office and residential hardscape of the offices and residences are four connected levels of organic softscape dubbed the "Green Oasis" – a 35m open-air garden for work, strolling around and relaxing in amongst growing things such as perennial flowers, shrubs, succulents, and trees. Ideally, a well-designed landscape incorporates a balance between these elements.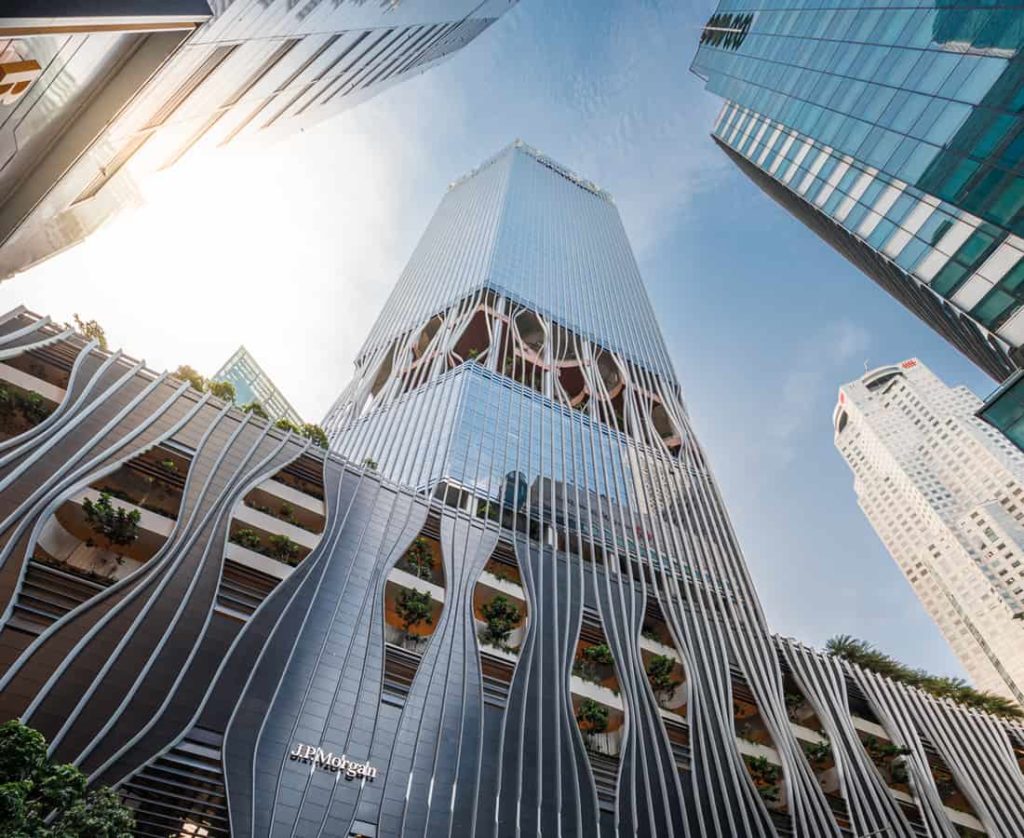 Winding green paths create natural entryways into the City Room, an 18-meter-high generous open space at the foot of the tower that shelters visitors from the tropical sunlight and showers and welcomes tenants into separate lobbies for offices and residences, as well as shoppers and diners into the food center within the tower's podium.
The iconic Market Street Hawker Center is recreated on the building's second and third floors with 56 food stalls – consolidating the building's location as the beating heart of the city's culinary experience, and the role it plays in maintaining local culture and traditions.
Thanks to biophilic design, artificial environments in the future will resemble – as much as possible- natural ones, to ensure the positive effect that Nature has on people's health and wellbeing. One of the goals of biophilic design is to give human beings living in urban environments back the chance to keep up contact with Nature. With its involuntary fascination for human beings, Wilson defines biophilia as "our innate tendency to focus upon life and life-like forms and, in some instances, to affiliate with them emotionally. In this form, it identifies two of biophilia's fundamental constructs: fascination (focus upon) and affiliation, that is, an attraction capable of spontaneously activating our attention. We hope this architectural trend will enjoy a bright future.
Source: Dezeen
---