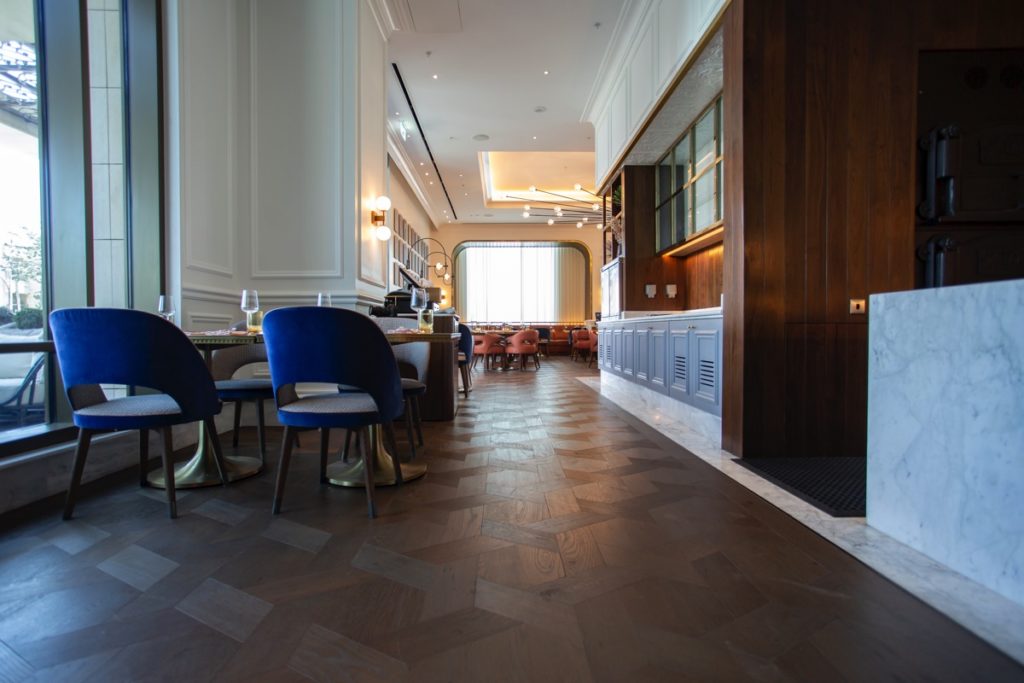 Interior project by Wimberly Interiors.
Recently opened, The Ritz-Carlton Residences, Amman- a crystallization of style and class – is taking the world of hospitality by storm, adding a new design feature to the city's architectural scene and urban skyline. Standing tall, bold and magnificent, the latest addition to Amman's vibrant and throbbing hearth is destined to be the most iconic fixture in the capital.
The design is inspired by the terrain of Jordan and deeply rooted in history also connected to the newly branded Marriott International. Designed by WATG, this classic architecture conveys a sense of grandeur and stature, its formal yet relaxed expression is inspired by rose-toned stones and Jordan's landscape.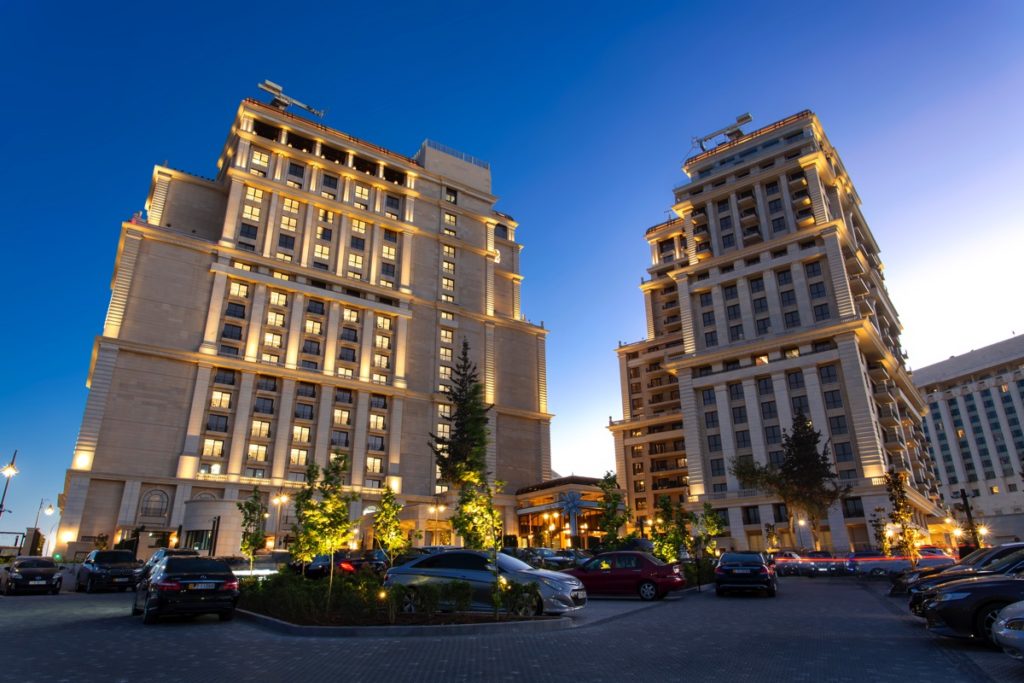 A juxtaposition of simplicity and new sense of luxury, The Ritz-Carlton Residences, pays a tribute to Jordan's cultural history in every detail from its awe-inspiring exterior to its classically adorned interiors. Introducing traditional design features and innovative materials, finishes drawn from the landscape of Jordan, and contemporary color palettes inspired by the country's natural terrain, The Residences are the embodiment of architectural perfection and distinction.
READ ALSO – Alberni by kengo Kuma tower is the architectural twist to be soon unveiled in Vancouver
Entering the lobby of The Residences instantly evokes the sense of classical perfection, magnificence, and simplicity. Formal and sophisticated, yet relaxing and welcoming, the lobby boasts an abundance of natural light and genuine European white marble floors with intricate patterns that reflect a contrast of color and tone, as well as elegantly garnished brass separators. Neutral surfaces at the lobby are enveloped by bespoke modern fixtures and furniture, most striking of which are the classic crystal chandeliers illuminating the reception.
Classically proportioned in form and detail, the design is luxurious and elegant expressed through historical elements. Formal gardens, colonnades and terraces stand out with a sense of grandeur and stature.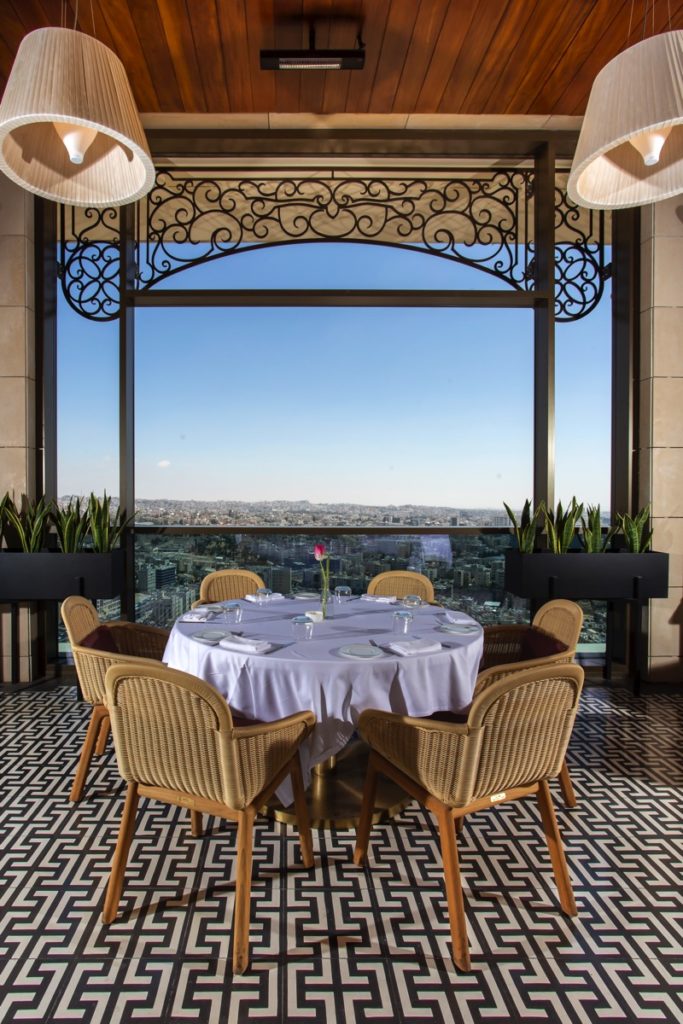 Luxurious stone, polished metals, natural wood flooring in a rich palette of tones, patterns and textures shape this architectural object that frames the views, and shade in simple trellises and screens create a timeless statement of style. Geometric detailing and masses broken in a series of layered blocks break up the volume into a series of elements, executed in a way that makes the hotel regionally inspired and a landmark in Amman.
READ ALSO – Straight/Curved house is the challenge undertaken by Filippo Bombace
Altogether, the newbuild property comprises 228 guest rooms, featuring 34 suites and 90 Residences available for purchase. The hotel's guest rooms start at a generous 60 sq m surface and each residence features exclusively master bedrooms.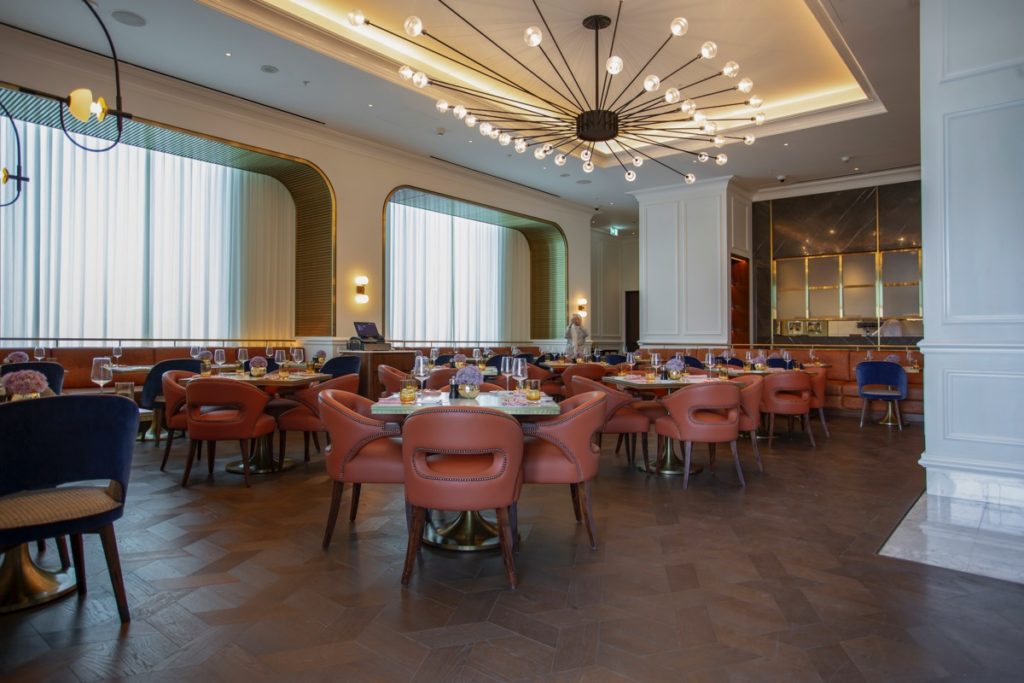 Visitors will be able to enjoy the property's indoor swimming pool and make use of the fitness centre and 1,000 sq m boardroom, before eating at its two gourmet restaurants. One of these dining venues is strategically situated on the hotel's rooftop.
Describing his vision for the property, Tareq Derbas the general manager, said: "Attention to the finer details, meaningful gestures of care and anticipation of guests' needs have the power to turn a mere house into a home and an ordinary hotel stay into a memorable experience. Guided by these principles, The Ritz-Carlton in Amman promises to deliver curated and highly bespoke services to every guest, every time."
READ ALSO – Natural minimalism takes a turn in this Franciacorta dwelling
The collection of residences includes two penthouses with one- to four-bedroom apartments. Residents here will have full use of the hotel's abundant amenities, along with access to an Owners Lounge.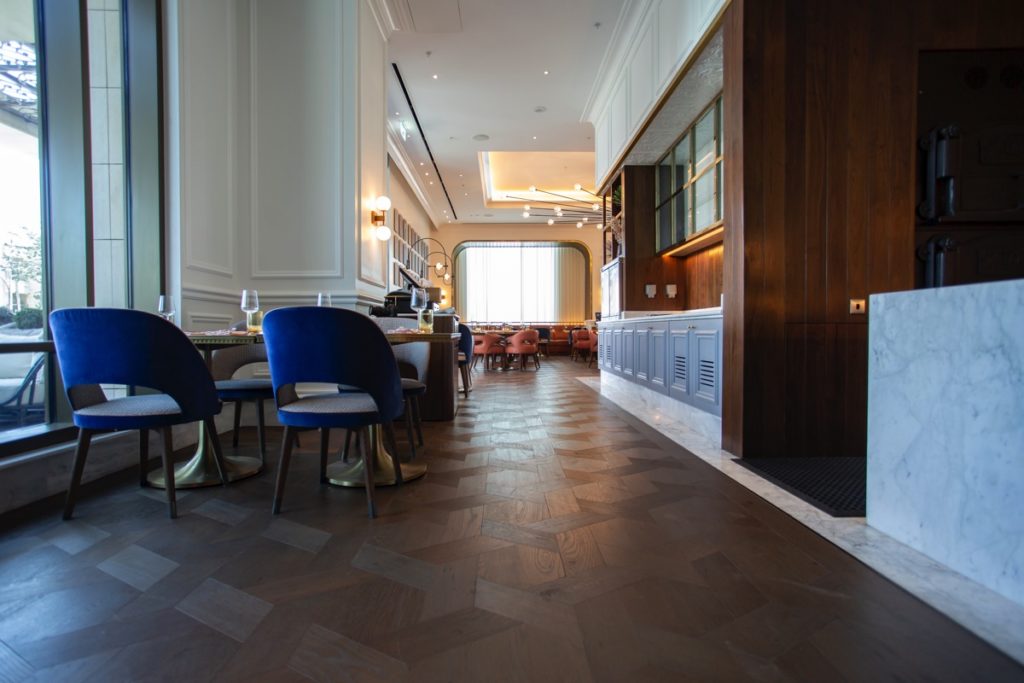 Other entertainment facilities for residents' use include a cinema and gaming room for children. Ensuring homeowners have all the amenities they need, The Residences will incorporate gourmet restaurants, the Founders room for cigar and whisky tasting experience, a Spa and wellness centers with premium beauty service, a designated parking area will feature electric-car-charging stations.
Its golden debut aims at providing a long-term memorable experience, the new property fuses modern luxury with a taste of Jordanian culture. We take a closer look at what to expect.
Jetting out of the building are impeccably built balconies affording spectacular sweeping views of the city, with each residence housing at least one. Surrounded by classic steel balustrades, most balconies offer a generous seating space yet, to capitalize on Amman's fantastic weather, princess balconies are also present acting as the perfect spot for a fresh breeze and sun exposure. Floors 2, 8, 14 and 18 of the tower accommodate exceptional terraces surrounded by stone balustrades, offering their residents a regal experience at home.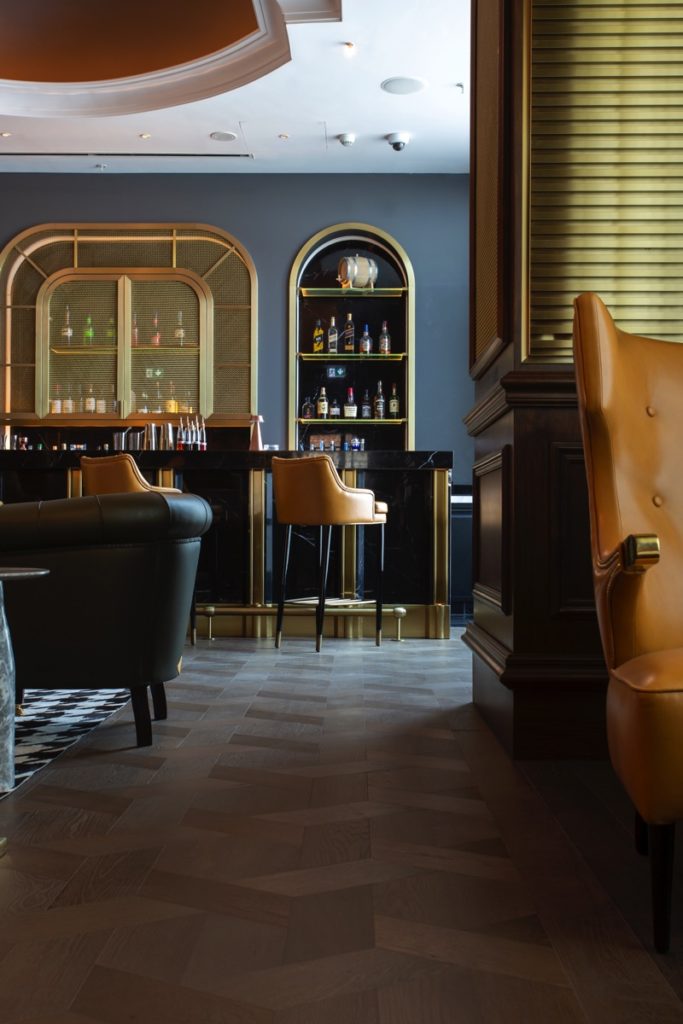 Interior design that ignites experiences
Strategically located in all corners of the globe, Wimberly Interiors is a boundless, independent interior design firm that has broken down barriers in geography and creativity since its founding in New York in 2011.
The brilliant minds behind Ritz Carton's design teamed up to deliver a unique and creative experience. The studio -positioned in the strategic creative hubs of the planet – is renowned for its imagination, inspiration and sense of choreography to make their clients' dreams a reality.
Driving into The Residences, guests are surrounded by timeless design which shapes a striking architecture result, in addition to a sense of classic luxury. Intricate European tiles line the path of the arrival plaza, while the tower's entrance is framed with Roman-inspired columns that add a touch of majesty to the building. Across the street at The Ritz-Carlton Hotel, visitors will experience an unparalleled welcome as they arrive at the hotel's exquisite Porte-Coche, featuring intricately patterned tiles layered among delicately designed swirls promoting ease of flow and effortless movement.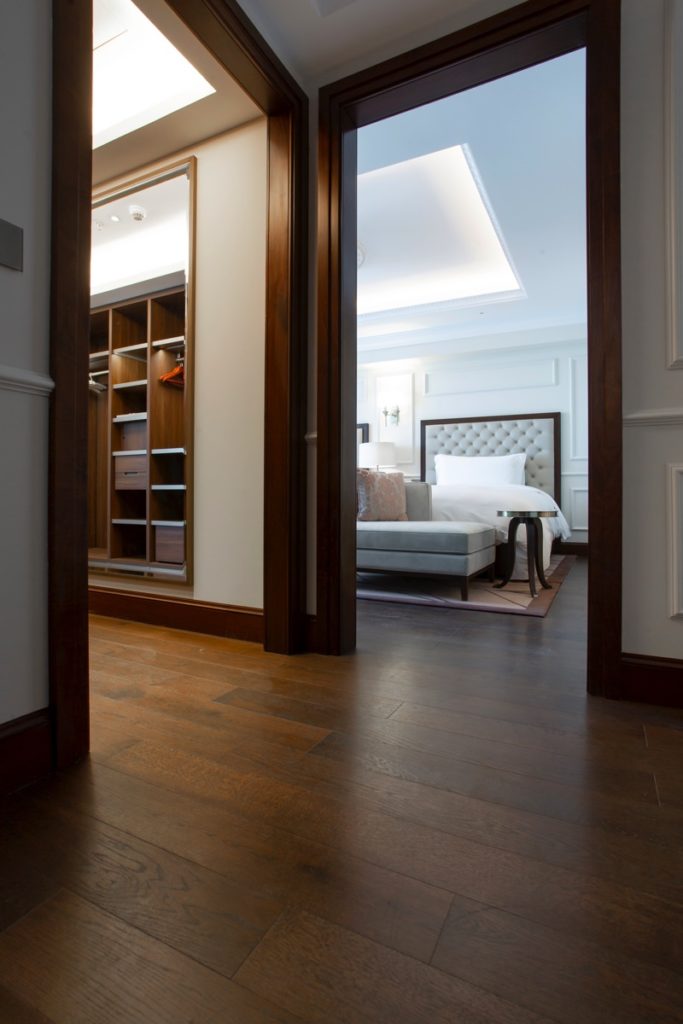 Listone Giordano interpreted the innovative spirit of the project by offering a series of wooden surfaces, each customized to best meet the needs and the overall vision of the designers on the one hand and the client on the other. A selection that involves the interweaving hexagonal modules wood floor alongside with Michelangelo, Atelier and Slide Natural Genius collections. Wood, the true ambassador of nature and human genius, co-star in this eclectic and international style as it stems as the new model of hospitality.
Special thanks to Maraqa Interiors
---