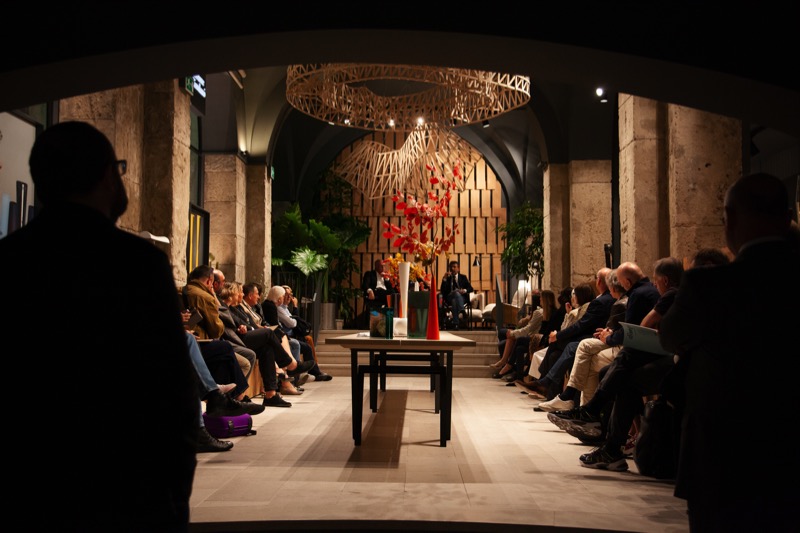 A comparison can cast light on the contrasting values of two civilizations or, conversely, point out that despite differences in the details, we humans all share certain universal constructs and personality traits.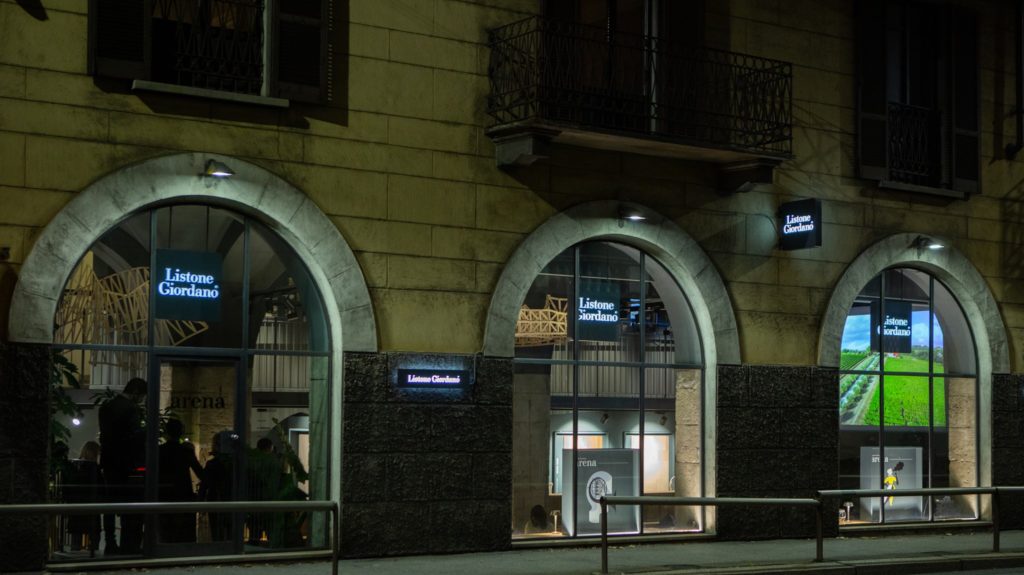 The space designed by Italian architect and designer Michele De Lucchi is a unique location of interaction and learning.
The design gallery can be defined as welcoming, minimal, materic and elegant.
Michele De Lucchi infused new life in this space in Milan which opened its doors one year ago at Via Santa Cecilia , with large windows facing Via San Damiano, right in the throbbing heart of uptown design district as a gathering place, a site of interaction but also calm, in contact with wood in all its natural purity.
'Arena,' as the name indicates is not just a showroom, but mainly a place of discussion and learning, regarding the major themes of architecture, design, art, culture and nature as part of human sensitivity.
The building which in the 1930s contained the famous restaurant La Penna d'Oca – the home of Futurist cuisine – designed by Gio Ponti, conserves traces of the frontage on the canal that once flowed along Via San Damiano.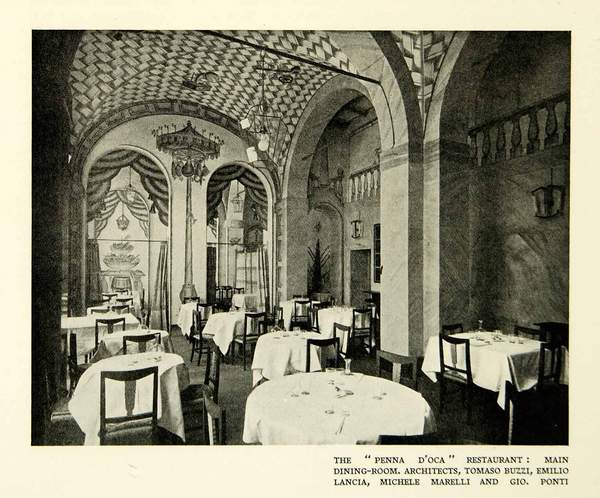 The windows once opened directly to the water, in a completely different Milan. In the past, the space that now hosts the Arena was a sostra, a facility for the storage of coal, in an 18th-century building positioned on what used to be the ring of the canals. The famous canals projected by Leonardo da Vinci.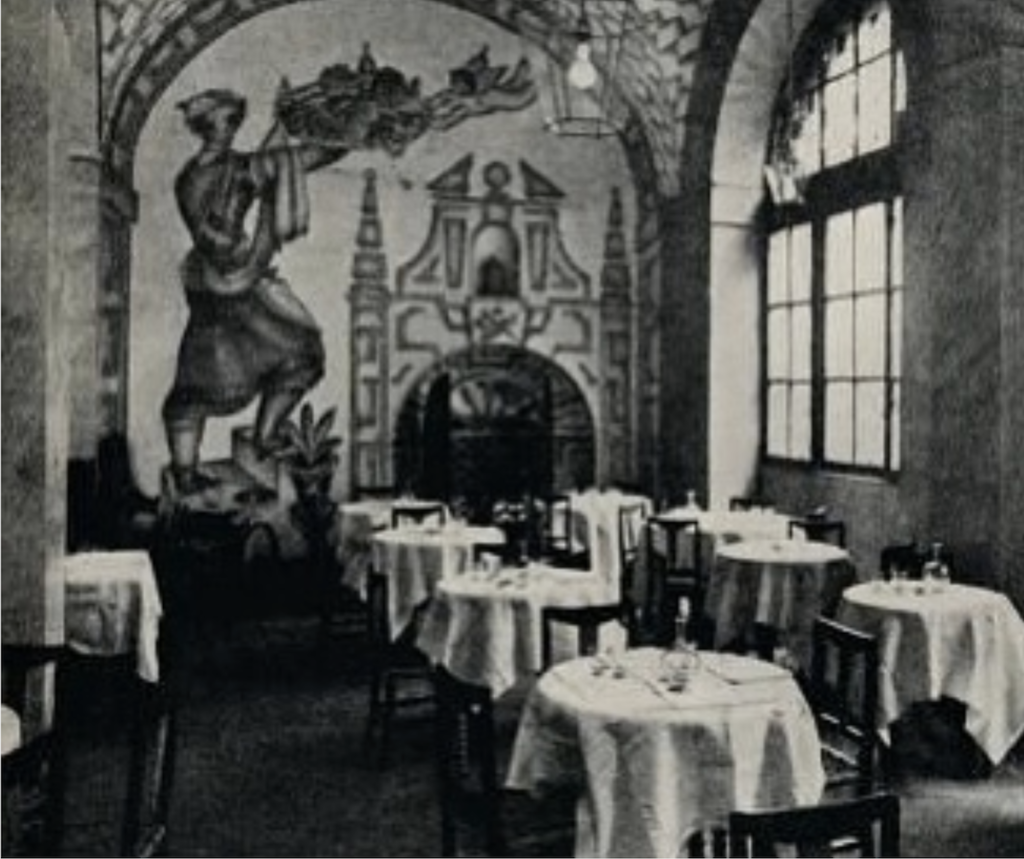 It was 1482 when Leonardo arrived in Milan and was assigned by Ludwig II il Moro with the task to study a system that would make the navigation from Lake Como to Milan possible. Leonardo, who had already designed the system of the dams in order to solve the problem of height difference of the territory making the navigation possible didn't miss the chance to draw some sketches that are preserved today in the Museum of Navigli.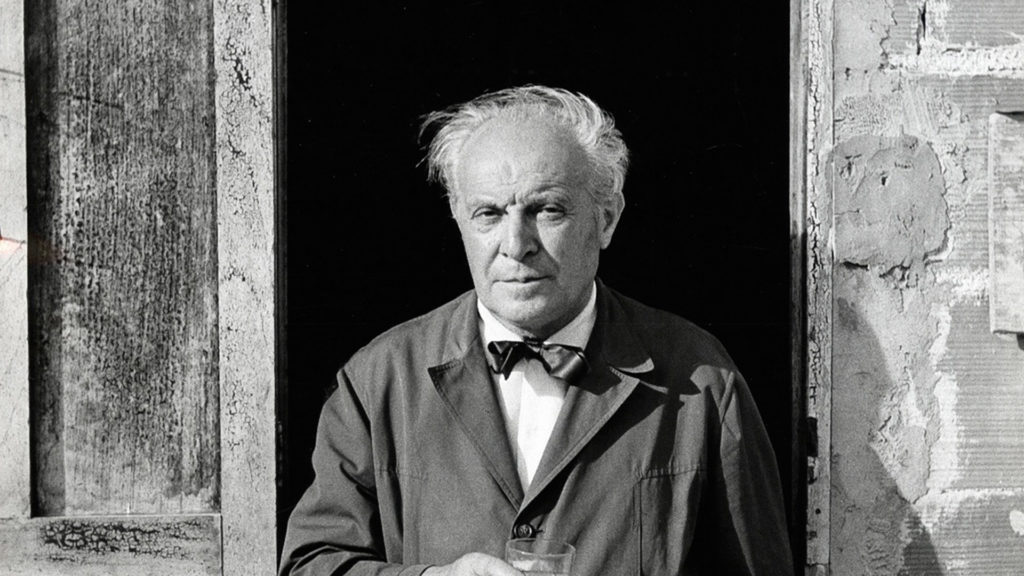 Since then the Navigli were characterized by a continuous development particularly by the construction of new canals and dams. This is how the Navigli became a fundamental means of communication and part of the identity of the city of Milan.
The delicate operation of restoration of the building has brought to light columns, arches and vaulted ceilings in stone that form an enclosure of Renaissance proportions. An open amphitheater has been created here for presentations, conferences, art exhibitions and last but not least the display of products inspired by a design gallery concept..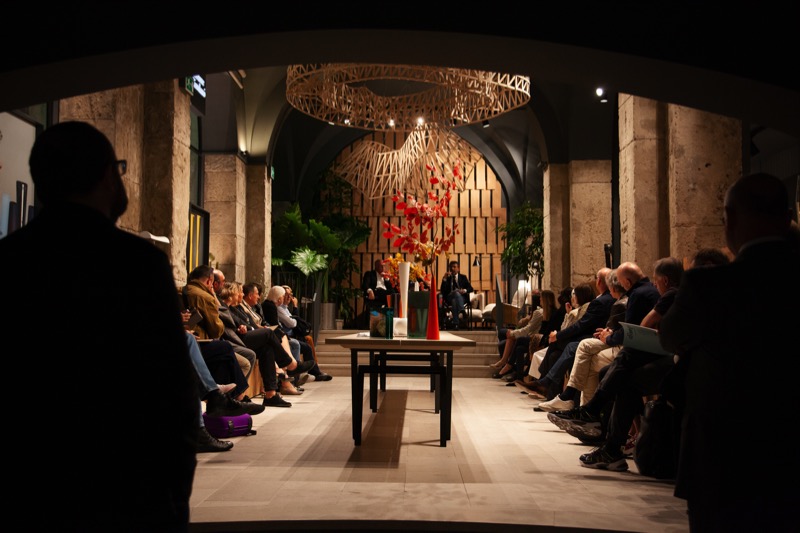 A light walkway, suggesting the typical Milanese balcony accessways, connects the three levels of the space, joined by a basement used for storage. The rooms on the upper levels reflect the 19th-century character of the building.
"It is a display space based on cultural. emotional exchange and the transfer of Knowledge" says architect Michele De Lucchi
The true protagonist of the facility is wood, in all its forms, bearing witness to the intrinsic value of this living material par excellence, alongside other materials that have been part of the history of mankind.
Respect for the past also takes concrete form in the choice of appropriate materials: the floors in hammered Aurisina stone of the large display area are in tune with types of stone uncovered during the course of the restoration.
LISTEN TO THE PODCAST
---
"On the ceiling a model of the Earth Stations has been suspended to indicate that the Arena is an evolution of the showroom concept. It is a display space of the future, no longer based on the seller-buyer relationship, but on cultural, emotional exchange and the transfer of knowledge," says Michele De Lucchi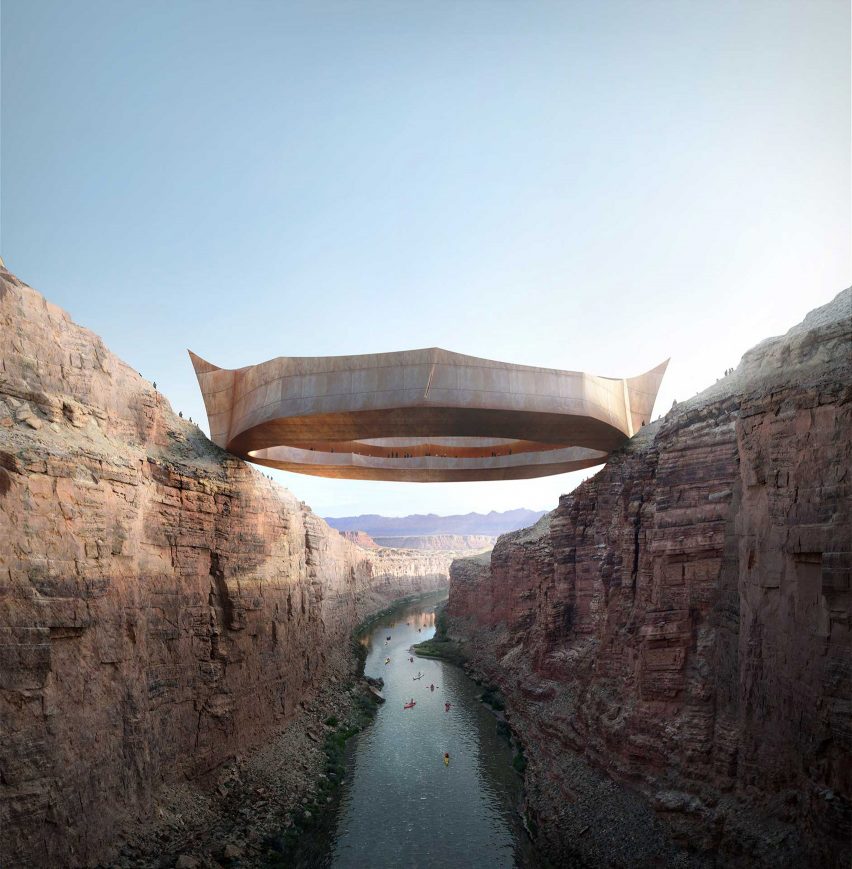 Earth Stations are visionary architectures – Arena hosts two sculptural models of them – that form networks which are easy to reach in an "utopian" world and are built in places that shape or regenerate urban and infrastructural nodes. They respond to our evolving life styles where artificial intelligence increasingly frees man from bureaucratic and repetitive tasks, establishing an opportunity to create places that express personal freedom and harness the enormous potential of technology.
They are designed to respect our environment and by definition everything that happens inside continues to impact their evolution and adaption. They are organized to promote walking and casual encounters, which is the best method of creating ideas and interaction. They are places that dissolve traditional notions of ownership and instead help spread shared and circular economies.
They come from exploring humanistic qualities in architecture which are influenced by atmospheric and sensorial experiences rather than purely the formal or visual definition of space. They promote a continuous stream of mobility and communication that inspire formal and informal events, supported by workshops and technologies for new forms of expression and production.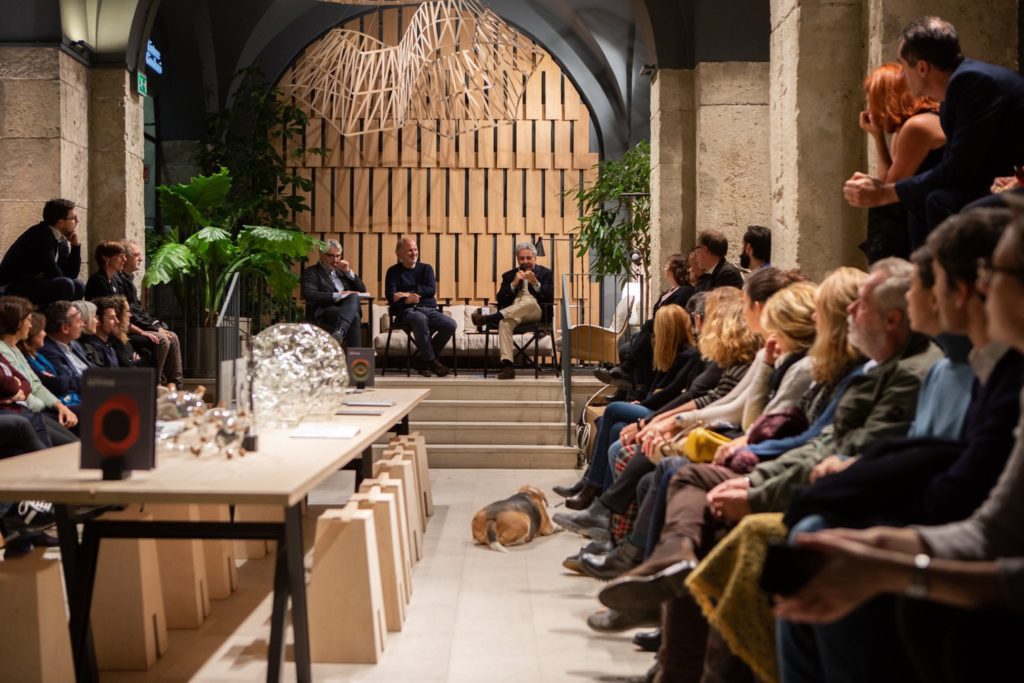 The concept called Mountain Station for instance is designed as a conference space that could perch on top of a mountain, for city-based workers to retreat to find inspiration. Accessible by cable car, De Lucchi imagined an organic form wrapped in a breathable membrane that would protect visitors from extreme weather conditions.
Suspended over a natural gorge or canyon, the other model is Crown Station designed as a double bridge with a crenelated profile that would hold events and education spaces. Its shape and setting is designed to both symbolise and encourage the connection of ideas.
Connecting experiences is the way De Lucchi's research is presented to the public in Milan and worldwide.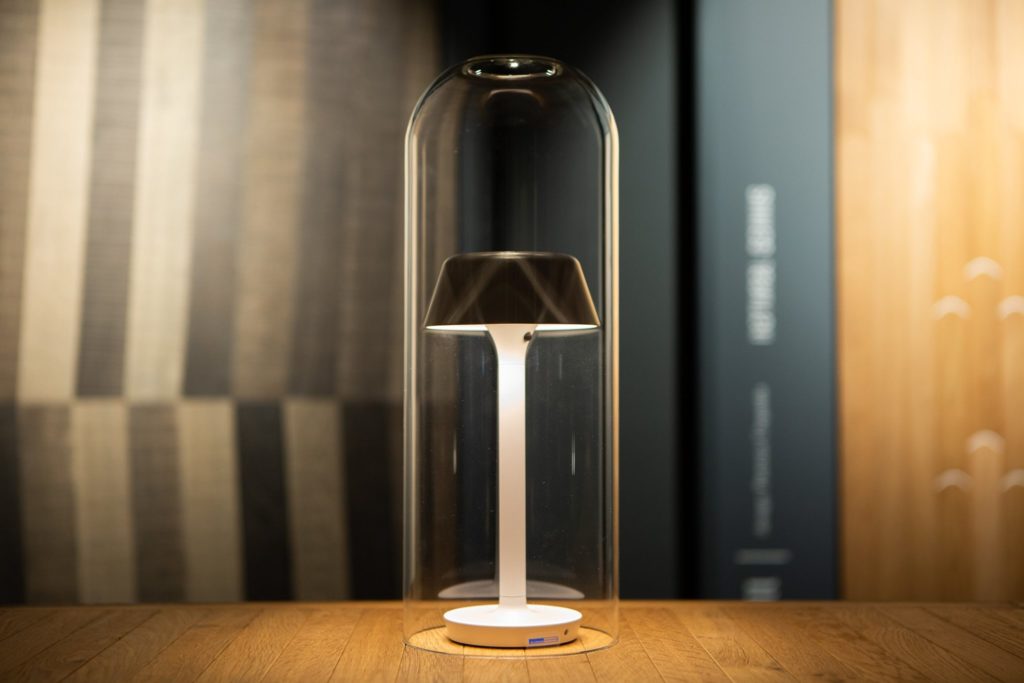 Arena is the creative spaceship where ONE cross-media project has just landed. This parallel firmament is inhabited by design partners (Vaselli, Bluside Emotional Design, Panzeri and Matteo Brioni) sharing our vocation and values.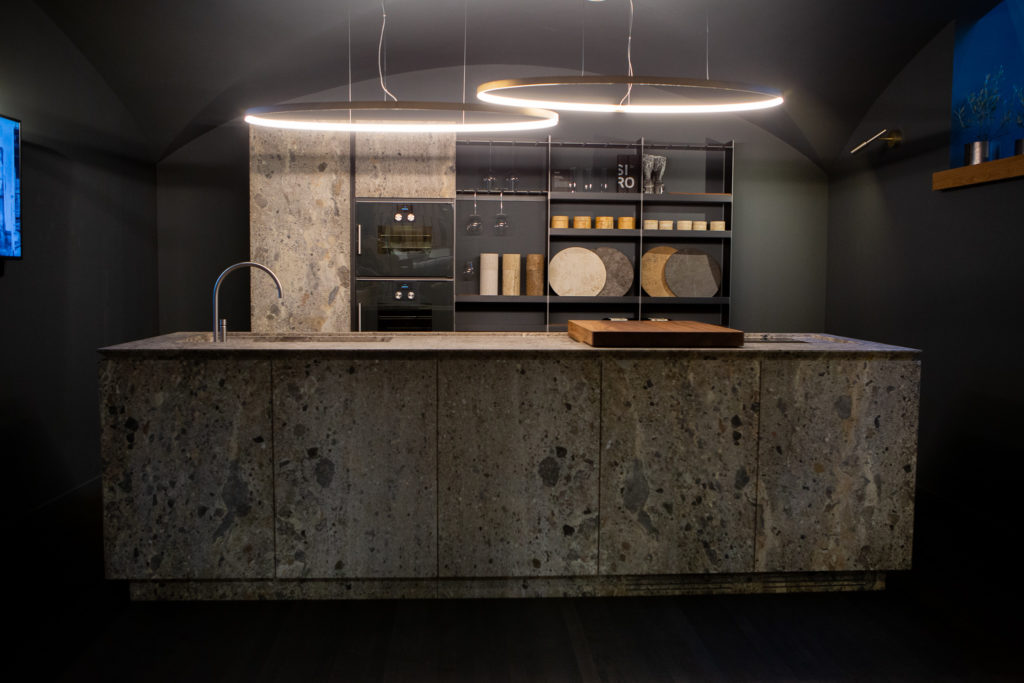 To stay in touch with clients we have multiplied our communication channels, working with professionals of different cultural backgrounds, and we created the One project, a cross-media platform that takes the form of a magazine, tv and web radio, podcast and social network, through which to present interviews, videos, exhibitions, presentation and events. Many of them will be performed live and streamed from Arena to our audience of design and culture lovers .
---
---