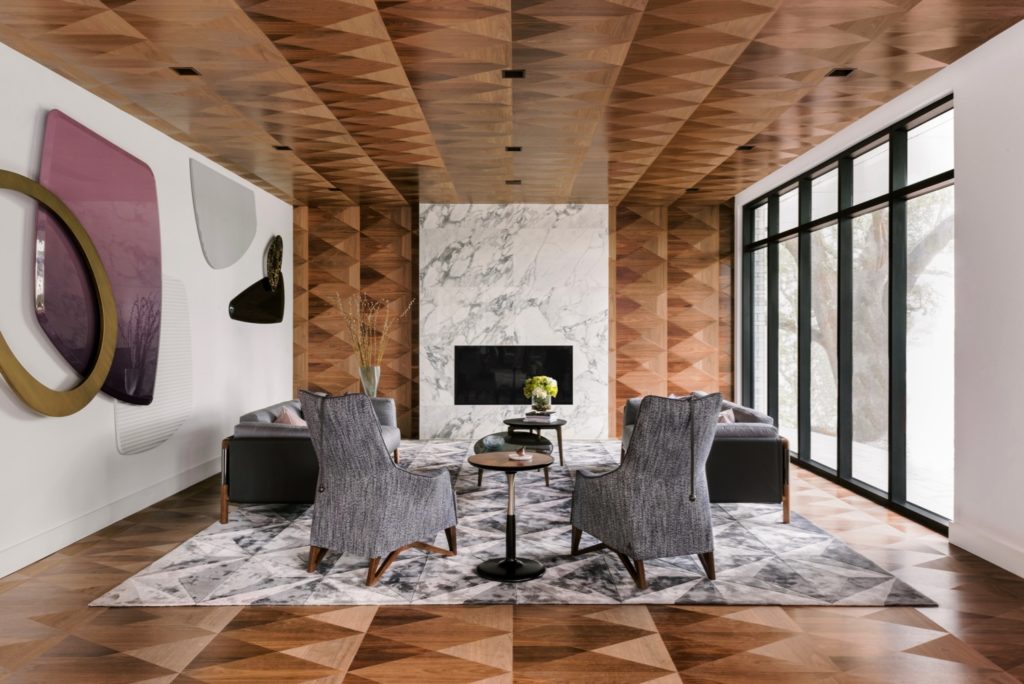 Giorgetti Huston: the unique Building is destined to become an iconic model for exclusive worldwide Palaces.
Stepping into the lobby of the building, you're immediately hit by a sense that this is a very different kind of place. The sophisticated ambience created by Giorgetti furniture is anything but ordinary. The wood floor on the ceiling is another striking, eye-catching touch.
The Giorgetti Houston is a condominium building unlike any other, it's love at first sight.
It stands out as the perfect combination of art, architecture and artisan craftsmanship. The luxury midrise with 32 condominium residences has made its successful international debut in the trendy Upper Kirby neighbourhood, bringing with it all the excellence of elegant living, world-class features and timeless sophistication.
The brainchild of Italian furnishing design Giorgetti embraced this new challenge in partnership with real estate developer Stolz Partners, architecture and interior design firm Mirador Group, and residential real estate brokerage firm Douglas Elliman. The venture represents a continuation of Giorgetti's 122-year-old history of creating sophisticated environments.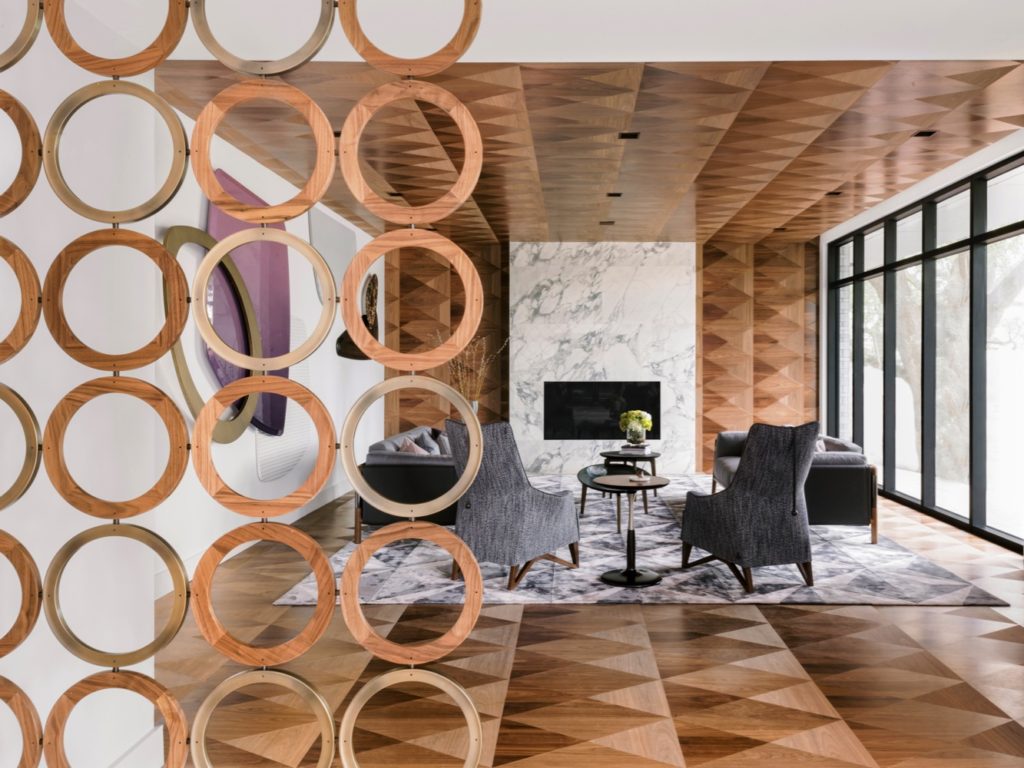 Created for a clientele that craves creature comforts along with exclusive access, Giorgetti Houston is a tour de force of sophisticated living. The four penthouses are designed to maximize the urban sophistication of Giorgetti's location. Each of the 32 residences is a bespoke experience, with all components handcrafted in Italy by Giorgetti's expert artisans.
READ ALSO – Faena house designed by Norman Foster becomes the latest attraction of the Miami Revolution
Listone Giordano hardwood floors, Gaggenau appliances, Giorgetti cabinetry and lighting as well as floor-to-ceiling windows are all highlights of these residences. Four elevators, private garages and a direct-access entry foyer add to the exclusive feel. The homes also feature an outdoor loggia with outdoor kitchens, perfect for patio fair-weather entertaining. The interior designers have selected Listone Giordano floors to bestow a sense of continuity upon the entire project. In this specific case opted for a unique, customized design wood surface from the Natural Genius collection: refined walnut Godron with three-dimensional effects.   
Quality and innovation are translated into an architectural cladding obtained by laying triangular and rhomboid tiles—with or without diamond grinding in relief—in different positions. The decoration is obtained from the particular geometry of the tiles and from three different glossing and saturation effects applied to the American walnut. The different ways of laying the tiles give rise to multiple patterns.
Stepping on these hardwood floors can be akin to the feeling you get when walking barefoot on a freshly mowed lawn or a natural carpet. There's nothing else quite like it — and you cannot believe you did not know this existed before.
Sudhoff believes that the opening of Giorgetti Houston will take the future projects to a whole new level.
The luxurious living experience continues in Giorgetti Houston's shared spaces. Home owners can enjoy a 24-hour fitness centre, cold plunge pool, jacuzzi, porter service and a dedicated dog park: a complete set of modern living amenities. 
Every Giorgetti item in residences, from the kitchen and outdoor cabinetry to panelling, lighting, carpets, closets, woodwork, furnishings, and a wooden sculpture at the entrance of each home, was handcrafted by the company's artists and craftsmen in Italy.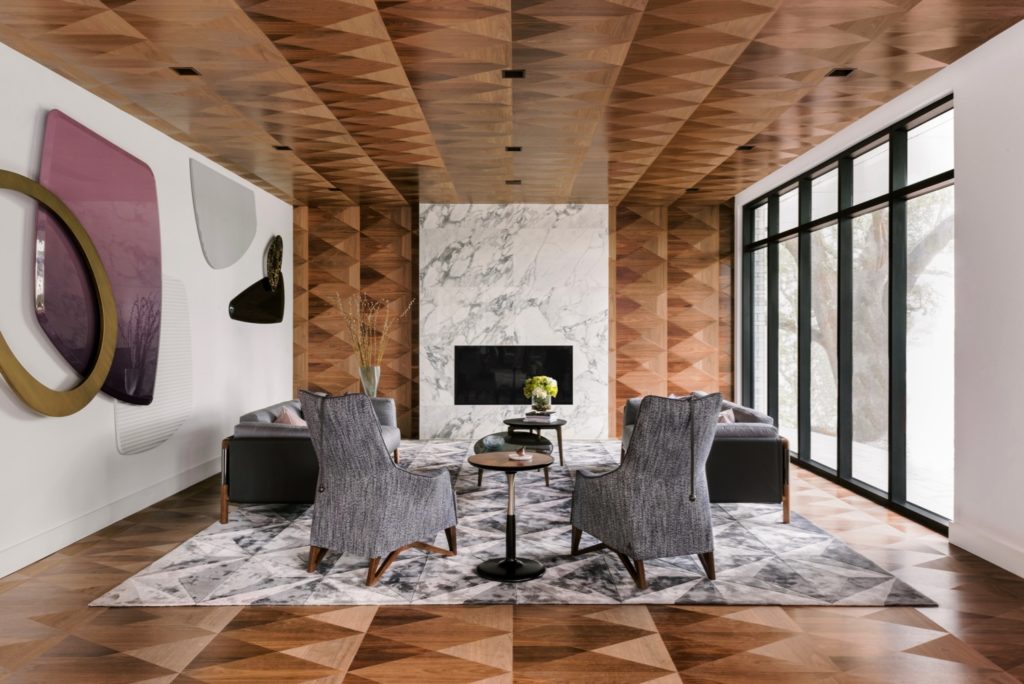 Meanwhile, Mirador Group led the design and planning of the building itself, a stunning steel-and-glass structure that fits within Upper Kirby's modern vibe while also being unique to the scene. Mirador's designs reflect Giorgetti's aesthetic sensibility and hallmark sense of comfort and functionality. Walnut combined with metal, marble, leather, and fabric are palpable in all aspects of the building's contemporary design. The exterior spells out "Giorgetti" in binary code; another example of impeccable attention to detail that characterizes this project.
"Our goal throughout the design process was to bring the Giorgetti culture to life in each home and in common spaces," Jerry Hooker, principal of Mirador Group, explains. "The building is representative of the Giorgetti Italian lifestyle — a harmonious fusion of innovative design, architecture, form and function."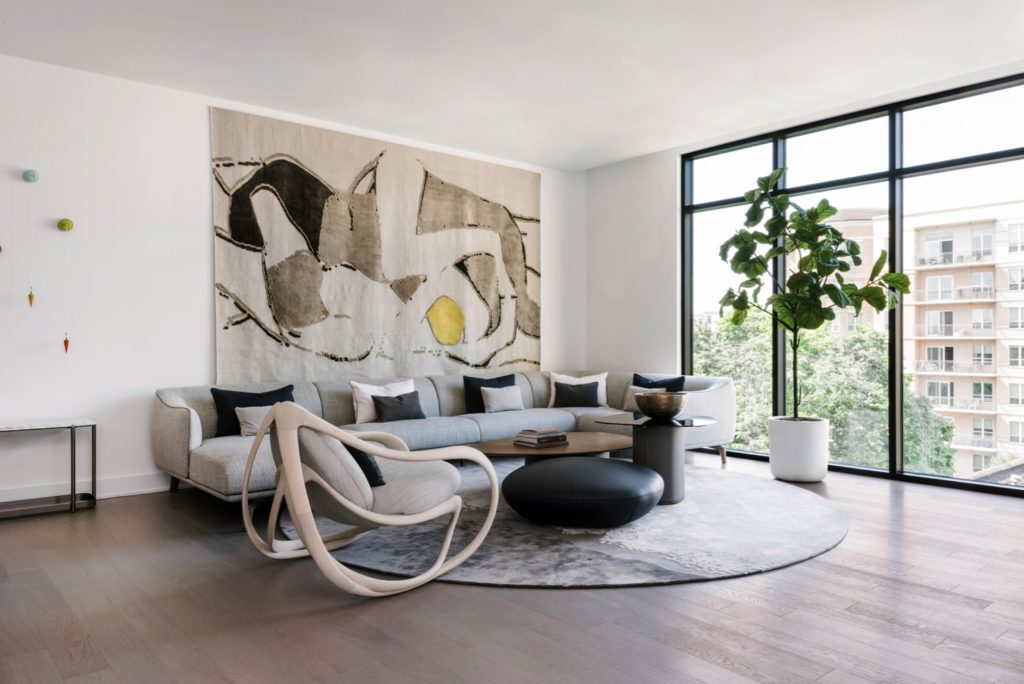 There's little doubt that Giorgetti Houston will quickly become one of the city's most sought-after luxury addresses. The combination of Upper Kirby's restaurants, galleries, and boutiques along with Giorgetti Houston's glamorous feel will be irresistible to those who aspire towards fine living.
Jacob Sudhoff explains how they wanted to provide an unprecedented level of design and quality finishings in Houston: "It's very Italian. It's very European."
"Giorgetti Houston is designed to feel like a real home".
The four penthouses on Giorgetti Houston's top floor take things to a whole new level. Each penthouse includes a sizeable terrace boasting both an uncovered and covered outdoor space.
Giorgetti Houston's units are made to feel like a true home by details designed around contemporary living requirements, embracing the concept of customization. Not least because owners who commit to buying at Giorgetti Houston are largely the type of people who have a clear vision in mind. This is satisfied with customization options galore. A homeowner can add even more tailor-made elements to their homes if they wish, too.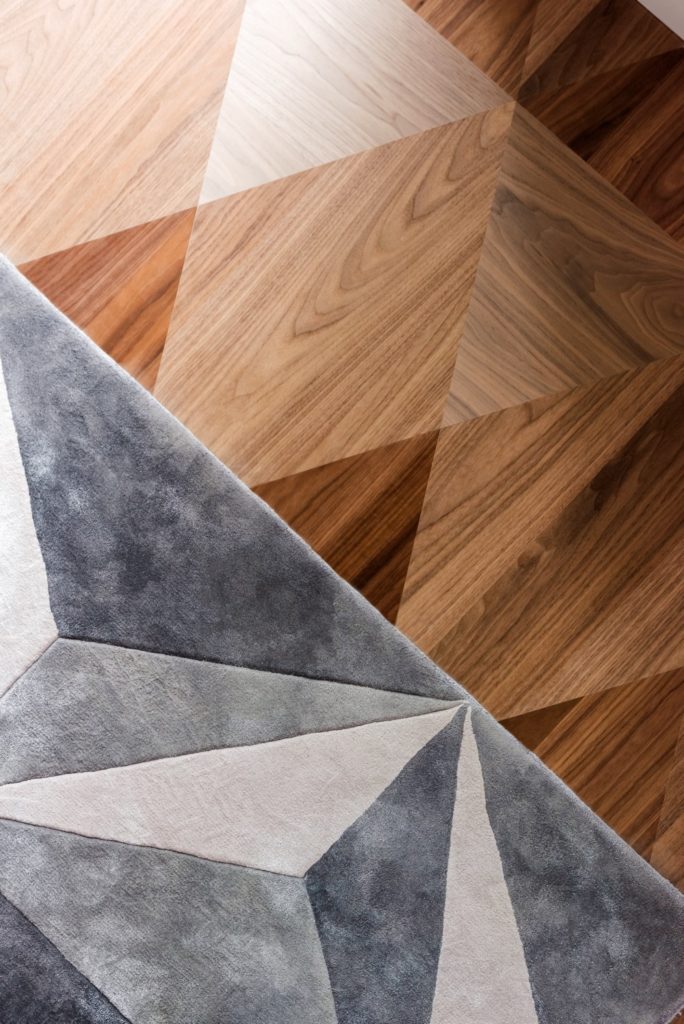 The whole project is about creating a bespoke environment in each unit. No other branded building in the world has a brand which will literally work with homeowners.
Of course there are few brands like Giorgetti in the world, but Listone Giordano does share the same values and long history. These century -old institutions have been built by generations of craftsmen. It is no wonder Giorgetti furniture (as well as Listone Giordano wood flooring) is built to last generations.
"They are true craftsmen with a contemporary twist," Sudhoff says. "It's part of their heritage and in their blood."
In some ways, you could say the same thing about Sudhoff and Hooker. This team works in synergy to create the type of design-centric, residential retreat that Houston has never imagined before. They are complementary.
In a Houston residential real estate world still largely populated by "traditional" developers, Sudhoff and Hooker stand out. The world is changing and they're making sure that Houston secures its place on the forefront. This building unleashed a mad passion for a design revolution!
Special thanks: Giorgetti, Mirador Group and Casa Houston
---