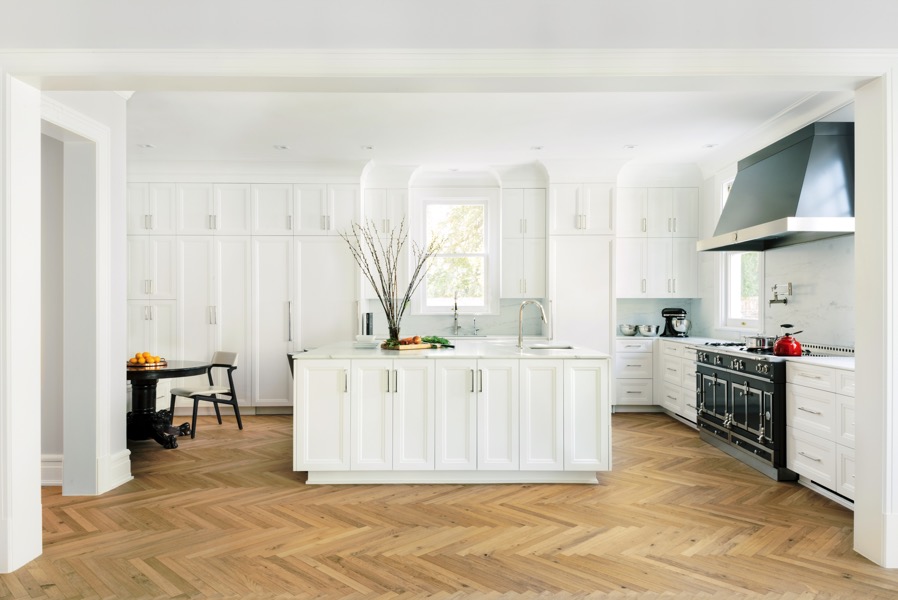 Top designers are using wood flooring in a variety of interiors all over the world. How could it be otherwise? Hardwood flooring has—for centuries—been a failsafe choice for any and every aesthetic and personal style.
But just like fashion and food, interior design trends can vary greatly based on location. Curious to see which fads have global appeal: from muted color palettes, to contradictory materials, to spaces that evoke a sense of intimacy, responses vary from country to country—sometimes even city to city. But for all their differences, you'll be surprised to see several trends have withstood culture shock. When it comes to interior design trends, it turns out that it's a small world after all.
A lifestyle living philosophy means planning your home around your lifestyle and matching your design vision. Tracking the home décor that's trending is often more about inspiration than instant overhaul.
Afterall, the style that speaks to you may be a "mirror image" of your personality rather than a dogmatic one-size-fits-all formula.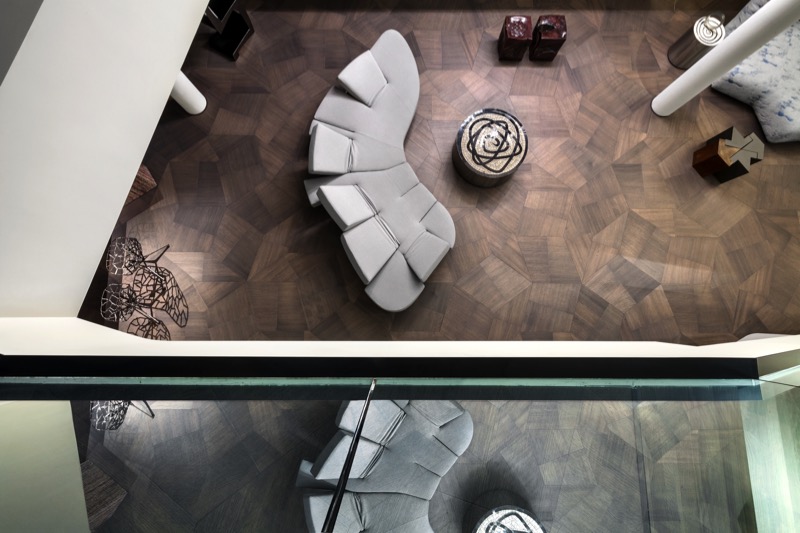 But every now and then we could all use a little change. And whether you're tired of looking at the same old design scheme, need a small refresh or simply like to follow what's new now, taking your cue from design trends can help you figure out just how to update your home surfaces.
A blend of textural touches helps create a warm, inviting look for a room designed.
More and more, people are forgoing inflexible, formal interiors that feel more like art galleries or furniture showroom than actual homes, in favor of relaxed living.
Interior design seems to be loosening up, tastemakers seem less concerned with creating spaces that are models of perfectly good taste and are pushing boundaries in ways they hadn't before, even at the very high end.
In these nerve-racking times, people are increasingly seeing their homes as "natural" sanctuaries, so it follows that a more relaxed, even crumpled environment feels more soothing and comforting.
Perhaps the most important aspect of the style is a sense of individualism.
Clients are expressing a greater drive to create a space that is truly unique, personal, tailor-made. A home filled with an assortment of treasures—some old, some new, some gleaming, some showing the hard-earned wear and tear of a beloved heirloom—appears truly special and memorable.
The trend is about making decisions that take the environment, health, longevity and quality into account. Very individual choices based on personal taste and personality, or neutrality for the sake of timelessness, and nothing fits in better than a natural wood flooring which embodies the classical beauty and sense of elegance.
This means natural and matte finishes with a focus on sustainability and timelessness rather than high-gloss or statement finishes.
Wood flooring offers endless options these days—a fact that proves clear when friends start approaching a vibrant restoration home project – The wood flooring could be one of most important detail that seduce them in kicking-off the refurbishment. The wood floors have what we might call patina and ancestral charm.
Clients are looking for a more natural look with no reflective shine, they wish to see the wood, but the low-sheen finish hides flows and imperfections (which are totally endemic and the beauty of natural imperfection!).
There's been a move toward livable luxury and personalized design, it really has to tell more about the person and what their favorite things are all about. The most beautiful interiors have a sense of pieces collected over time: iconic leather chairs next to a stunning new crushed velvet sectional—all atop a vintage rug they could have acquired on their recent trip to Algeria.
A big part of this look is mixing vintage with contemporary pieces. Authentic and found pieces from varying eras that somehow work together to create a more
Slow design, which focuses on the materials, origin of the piece and how it's made, taking the environment and sustainability into account, is to be on the right path.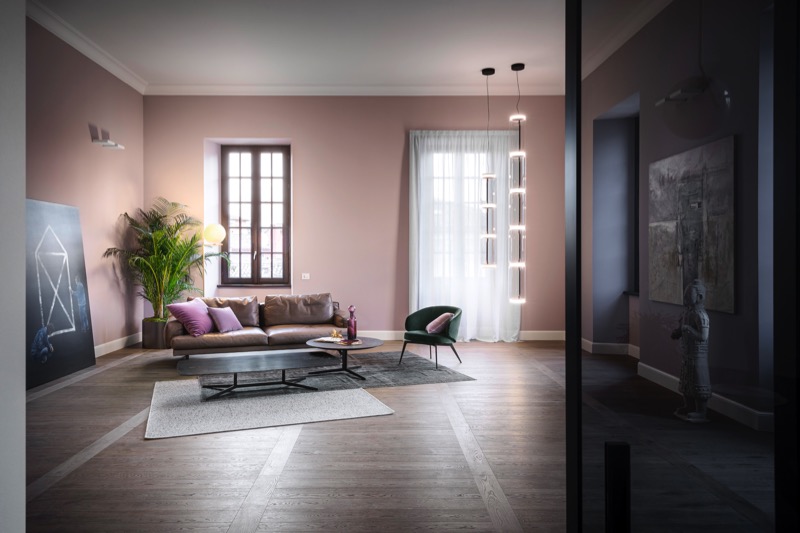 People are caring more about the provenance of a piece, how it has been made, the human skills that have been involved in the process, rather than instant, click-to-order mass production. Designers will have to overcome the idea of the 'extreme makeover' and start investing their ideas into wise statement pieces of lighting, furniture, accessories and surfaces (both horizontal and vertical): interior designers are also prioritizing the idea of mixing traditional pieces with the contemporary design icons.
Sculptural pieces with layers of textures and materials subtly done also further this type of aesthetic, the modern clean look, and maximalism looks incredible, but every day, it can be too much for the eye. Professionals are now travelling in between a laid-back luxury with an infusion of vintage and new, and mixes of color.
Twenty years ago, the trend was narrow boards, void of character, and stained either natural or brown. We have moved further and faster, now people want floors that celebrate the innate character of wood: wide planks, long lengths, knots, and patina, geometries and decoration are back on track. It's a fact that patterns—from chevrons to herringbones—are also surging. Classic inspired architects and designers may favor parquet de Versailles with diagonal style made famous by the French palace. Installing a French Oak floor into a dwelling can create a dramatic makeover everything you had hoped for—the rooms feel lighter and more modern, yet the floors retain a sense of their soul and a link to man's history
Top designers are using wood flooring in a variety of interiors all over the world.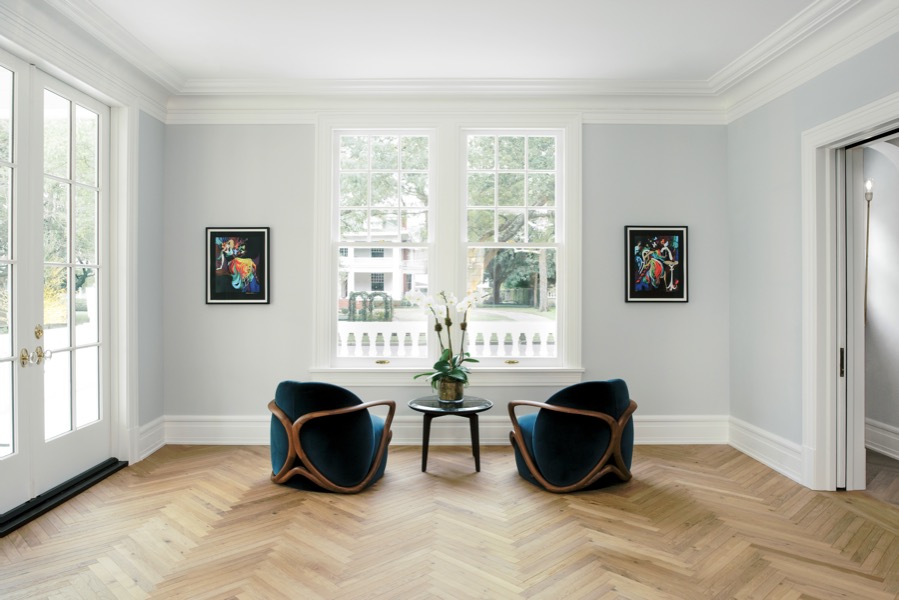 How could it be otherwise? Hardwood flooring has—for centuries—been a failsafe choice for any and every aesthetic.
In the end, a wood floor is being perceive more and more like a piece of furnishing, decoration elements that are less about one style, such as Scandinavian modernism or industrial chic, and more a buildup of looks based on individuality, need, purpose and functionality.
True elegance means not having to strive for a crystallized perfection, not everything in a room needs to be in mint condition or in, what's traditionally deemed, good taste. European aristocrats have long known this (think of a sitting room in a stately British country house with its plump sofas covered with an assortment of pillows and dogs and books and newspapers).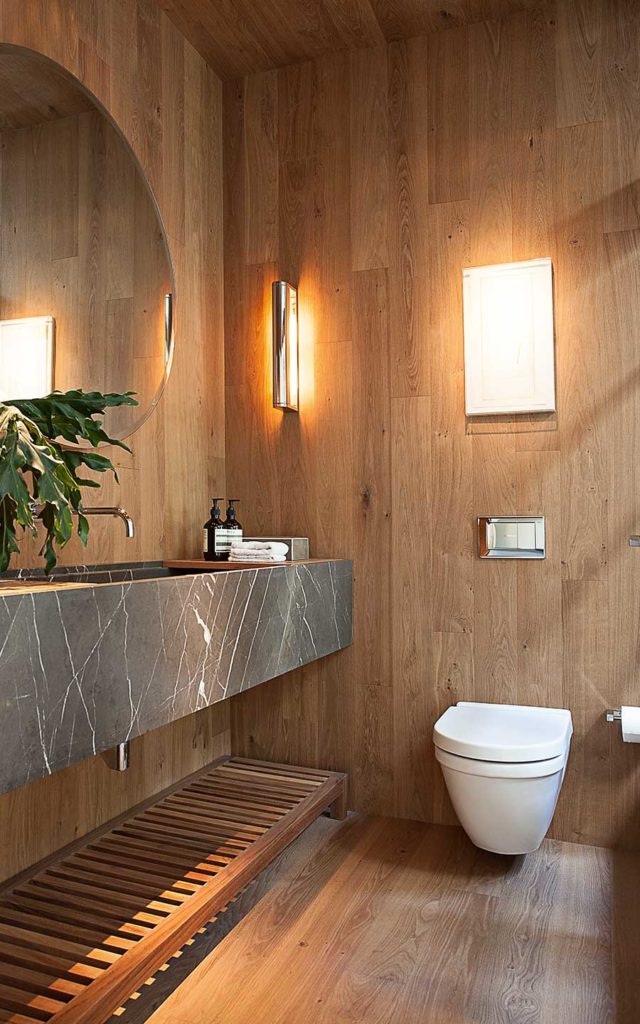 Colors that are soothing/surprising, easy to live with, are showing up in everything from wall colors and furnishings to fabrics/wood surfaces and accessories. The soft, warm hues act as a safe way to move into interior color, as many people have voiced a sense of color deprivation after several years of neutrals dominating the color schemes of many interiors. These "hot" shades are used as all-over color, in monochromatic tonal iterations as accents in an otherwise white room, or in a wide range of home accessories and fabrics, wood floorings are also catching up with this unusual color palette.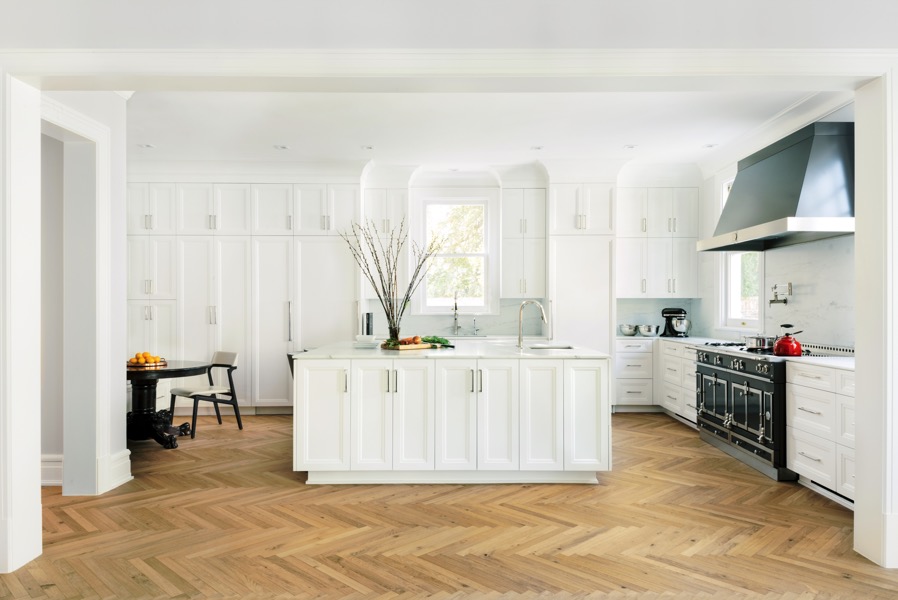 Soft natural tones, such as light grays and honey Oak shade work particularly well all over the projects: from kitchens to living and dining room areas, bedrooms and bathrooms; they are attractive to clients and create a faster, more efficient building process.
Warm lighter woods are highly in demand for the floor, this has been and continues to be a big trend in home design. The favorite wood of part of international design Community is light Oak in fairly wide planks: it adds the perfect balance of organic texture and modern warmth to any space.
On the other side of the barricade some designers fancy dark charcoal wide plank wood floor to ground a space and keep it looking rich, the custom blended are "spicy" to get the perfect shade of grey.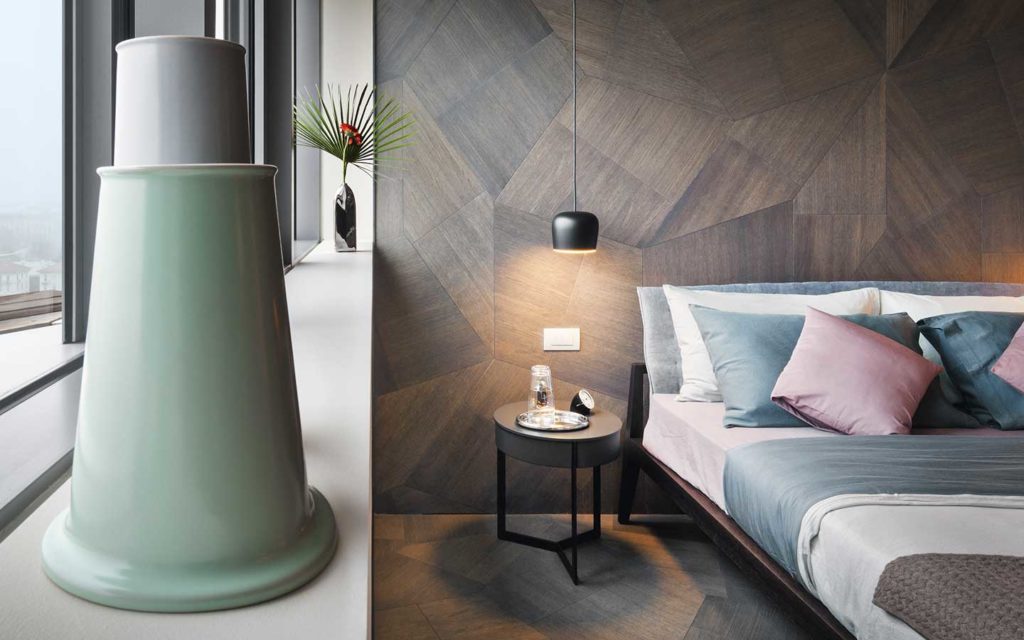 Clients and professionals seem to have shifted away from the cool gray finishes that were so popular a couple of years ago, and move towards wood tones that seem closer to their natural state. Personally and professionally they are gravitating towards oaks with caramel undertones, walnuts in a juicy brown, and distressing only if authentic. Less is more. Except for chevron and herringbone, then the more the better.
To add a pop of color to hardwood floors is experimental and work well in specific areas of the home, like the kitchen, as they generally have large amounts of tile and stone in them already (backsplashes and counters) and metal materials (appliances, pots and pans).
This is a great solution when you may be looking for a material to soften a utilitarian space that most people spend the majority of their time in. Natural oak, instead, provides a raw, organic look that serves as a fantastic foundation on which to build layers and layers of color and styles.
There's no better way to make wood floors feel elevated than by adding a dark stain. When contrasted with a light wall, a dark floor helps to make the room feel brighter and taller. A rich brown or graphite floor grounds a room and, from a practical standpoint, hides any imperfections in an existing floor. "Au natural! go nude the new season! Keeping it natural has a subtle statement that speaks volumes!
We see floors getting warmer as 2020 rolls on. The Scandinavian white oak look still holds our heart, but we believe richer brown stains are making an insurgence into more transitional style homes in the next year, as interior furnishings will become more adventuresome in their style, materials and coloration. There is no better way to ground unique, vibrant, sculptural interior decor items than with a textural, wide plank, softly natural wood flooring. The natural warmth will ground the room and act as a showcase to the fabrics and furnishings above.
An increasing number of clients are opting for a grey-tone wood floor! Not too dark, not too light, but a lovely medium grey undertone that complements any color of room setting. We think this falls into line with more and more clients also choosing grey closets, doors, furnishing elements! In the past, white was often the "must have" non-color canvas, but now trends have evolved and designers  look for ways to set their spaces apart, and grey seems like a neutral, livable option.
Fans of "blonde" hardwood floors re-use them often in their projects. It's versatile and it works well in almost any space and with any style, whether it be urban, metropolitan, beach house, or traditional brownstone. Blond floors blend in everything from relaxed to upscale, and they are the perfect creamy, impartial backdrop for any space.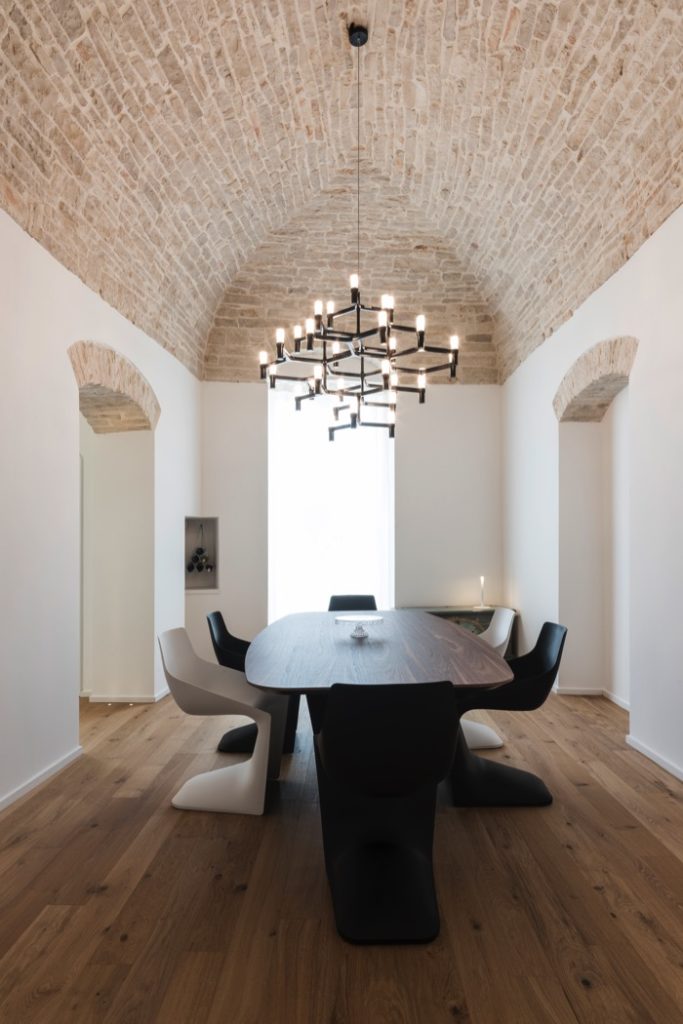 French Oak is an exquisite hue for an expansive floor surface and upcoming designers and architects tend to use it on walls (and ceilings) to complement the flooring below. For spaces with good natural daylight, the white oak can really help brighten and open up a space.
Given that oak has been around for so long, we've seen interest in patterned natural oak for a few of our latest projects. We used an alternating pattern of wider planks and narrow planks as well as offering the option of  hexagon and trapezoidal shapes: these are ground-braking for commercial projects or residences intended to make a bold statement: the sky is the limit! 
---