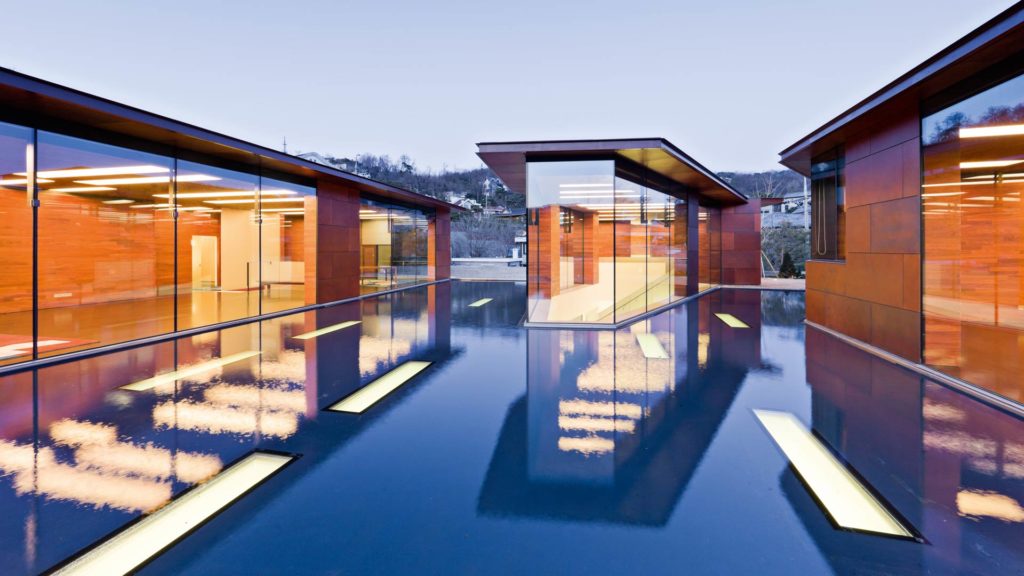 Steven Holl Architects
The Daeyang family made a name in the shipping industry after the Korean war. More recently, they commissioned Steven Holl to design a family residence that incorporates an art gallery to promote the family's image.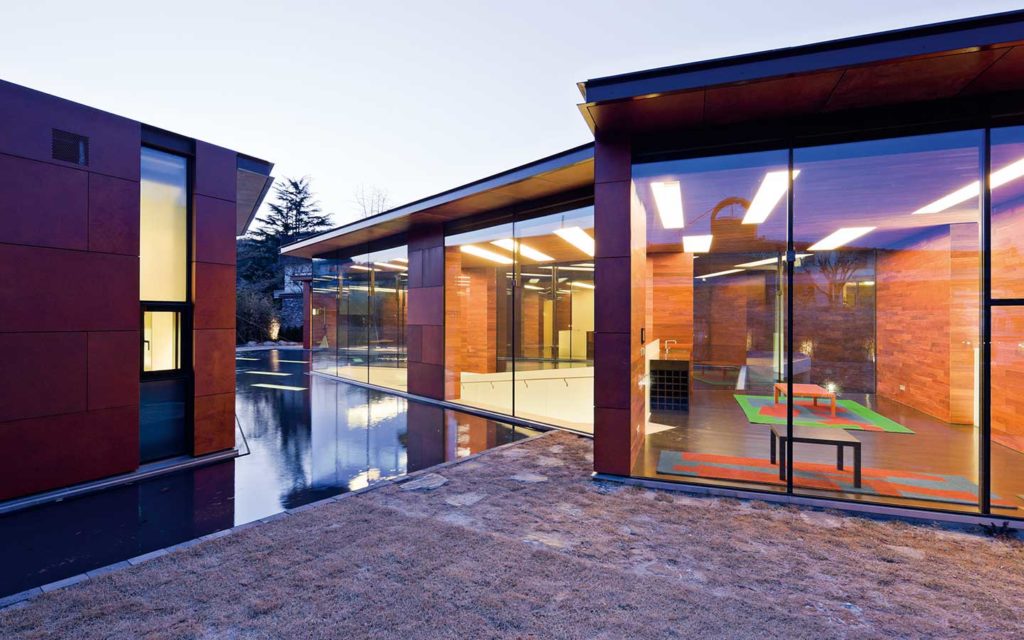 For the site in the prestigious Kangbuk Hills of Seoul, the architect drew inspiration from the music score for Istvan Anhalt's Symphony of Modules.
Holl happened upon the score in John Cage's book, Notations: it consists of staves broken up and grouped into geometric forms, leaving large blank spaces on the page.
Within the architect's complex, the "blank space" has been transformed into a pool between three pavilions. The pool emits reflections from the water, triggering an interplay of light and shadow.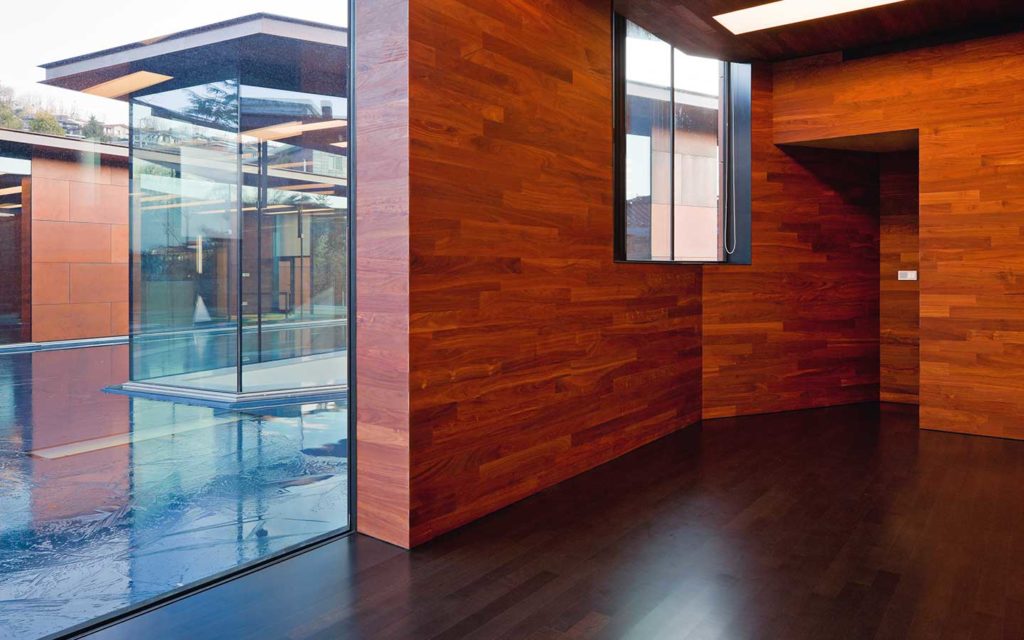 The architect's inspiration was not just musical but mathematical: the proportions of his forms incorporate numbers from the Fibonacci sequence. The shape of these lightweight forms are enhanced by the close proximity of glass and copper, encompassing private rooms for the family residence, and allowing the pavilions to glide airily over the water.
READ ALSO – 432 Park Avenue, Matteo Nunziati interior design flies high
The pond serves as the fulcrum for the project, most notably in its symbolic and functional division between public and private space. Five public galleries are connected by a single access system beneath the water's surface, offering access to the three pavilions that emerge from the water's surface as separate blocks.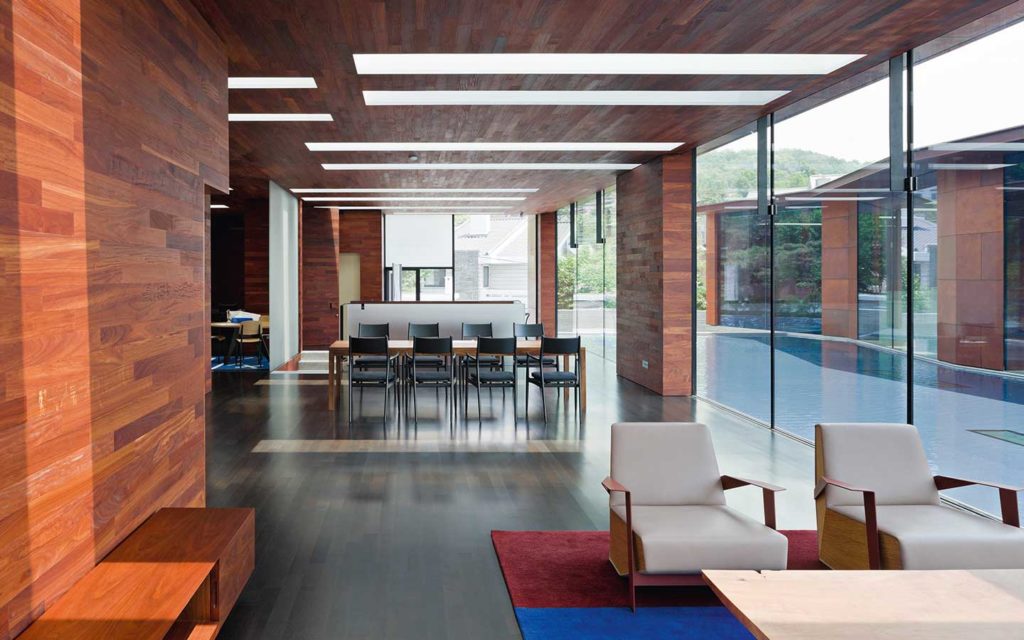 The lively music of the Symphony of Modules on the outside ceases at the lower level, where almost timeless silence prepares the visitors for their encounter with art. The entire composition is dominated by the color white, with the walls, ramps and surfaces all helping to creating a tranquil, meditative environment.
The space is brought to life and reconfigured by 55 skylights that offer top-down lighting for the galleries. Because many of the skylights are located within the water feature, the light that passes through them dances on the floors and walls.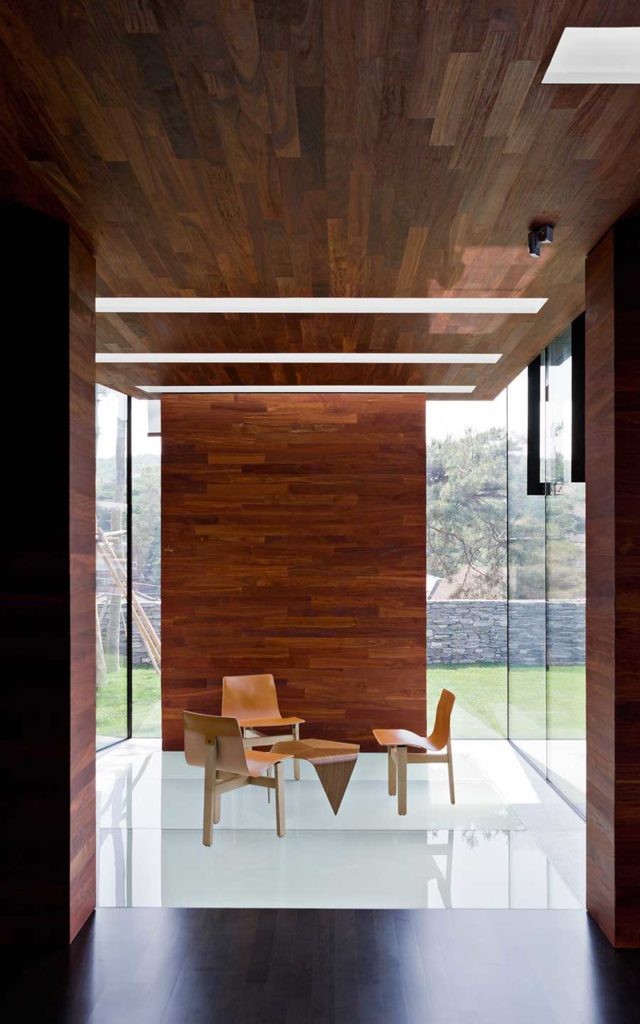 This semi-public space to host a shipping family's private art collection is an amalgam of music-inspired architecture and mathematical references.
Material selection is of vital importance to space design and visitor guidance. The inner courtyard is faced in concrete that was poured into bamboo molds, giving its texture depth and movement; the pavilions are clad in copper, highlighting the passage of time through how the surface ages; the warmth of the wood on the pavilion walls and their cladding is counterpointed by the coldness of the grey Korean granite gallery floors.
The symphony plays on through free expression via the music of architecture.
---