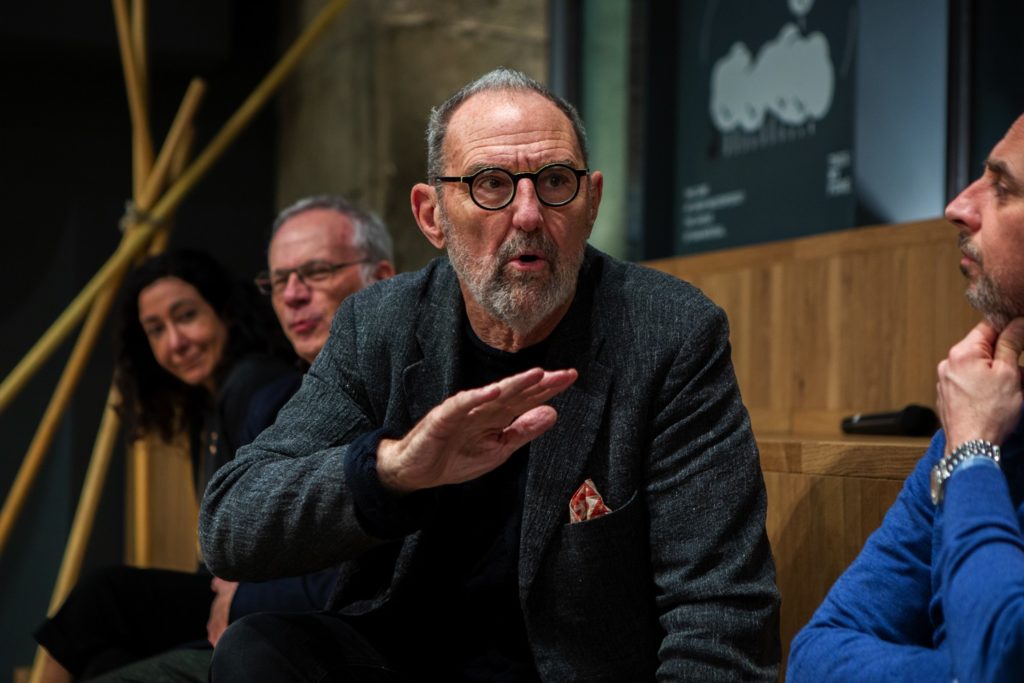 3/03/2020
The speech of Thom Mayne was organized with Stefano Casciani and disegno magazine.
See Portfolio Thom Mayne "Combinatory Form" in disegno n. 2/13
Thom Mayne founded Morphosis in 1972 in Los Angeles. The philosophy expressed by his work is rather typical of a man who has achieved distinction throughout the world as a theorist, author, teacher, and last, but by no means least, as an architect. His stature is even more enhanced as the recipient of the 2005 Pritzker Architecture Prize.
He is an architect but being an educator himself, Mayne has always been concerned with the culture of learning and the pedagogical impact of architecture. All of his educational projects have explored and continue to explore this territory and as a result have yielded several exceptionally innovative projects. Like the seismic shifting of tectonic plates, the bank headquarters itself erupts out of this pregnant, expectant form clad in sheet metal, declaring its status as a major cultural and civic institution and connecting the public forum with the street." Citizens of Los Angeles would recognize several of Mayne's projects.
"We will hold to that which is difficult, because it is difficult … and by its difficulty is worthwhile."

Thom Mayne
That's a quote from architect Thom Mayne in a monograph about his firm, He has sought throughout his career to create an original architecture, one that is truly representative of the unique, somewhat rootless, culture of Southern California, especially the architecturally rich city of Los Angeles.
Thom Mayne is an authentic addition to the tradition of innovative, exciting architectural talent that flourishes on the West Coast. Among his earliest works are several innovative residential projects in Venice, California; as well as the Lawrence residence in Hermosa Beach, California. Mayne acknowledges influence for some of these projects from Robert Venturi, the late Aldo Rossi, and the late James Stirling—all past Pritzker Laureates.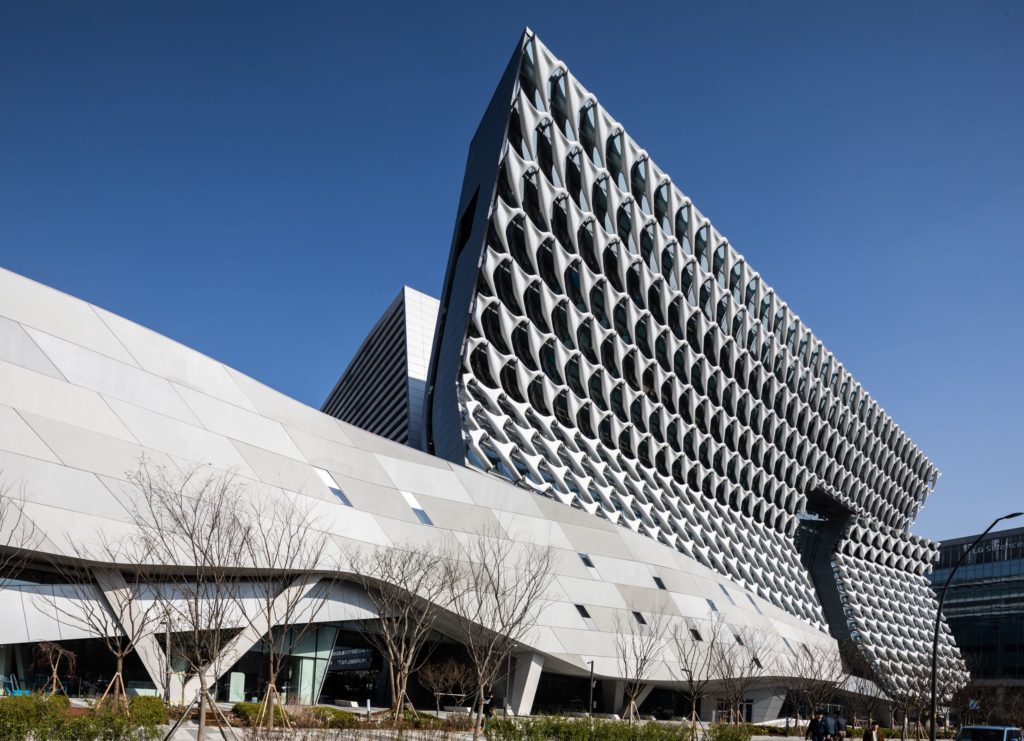 With a bunch of colleagues, Mayne started a new school
"We were young, committed and convinced that we could re-think where architecture was headed so when we got fired, we decided to start our own school. We sensed that it was the right time to initiate a radical alternative to the conventional educational system."

Thom Mayne
That was the genesis of the Southern California Institute of Architecture (SCI-Arc) That hardly sounds like the man that some in the media have called "a bad boy of architecture."
When he got back from Harvard to Los Angeles, he started receiving residential commissions and realized what a unique city LA is for practicing architecture (Frank Gehry had just finished his house), how open it is to experimentation. The Los Angeles architecture scene was becoming interesting at a global level."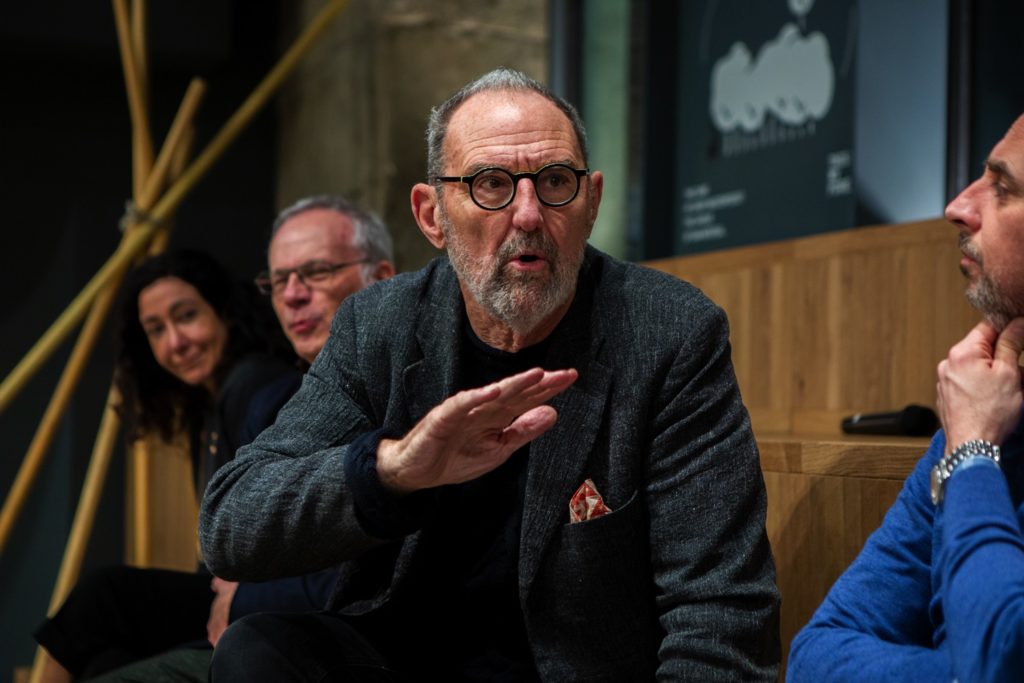 Morphosis came into being in 1972 during the first year of SCI-Arc's history.
"It really wasn't an office, it was an idea," says Mayne. "We had no work. We didn't think of having work, it had to do with an interdisciplinary collective practice … of starting a group of people who would work with graphics, interior design objects, furniture, architecture and urban design. We had a studio downtown. We sat around and talked. We'd do a little graphic thing here and there to make some money. We couldn't get architecture. It was all very counterculture."

Thom Mayne
One of the first project for Morphosis was designing a new school, the Sequoyah Educational Research Center, which subsequently won the firm its first Progressive Architecture award in 1974. "That was the beginning," Mayne explains, "the PA award led to inquiries from other publications around the world, wanting to publish this and that, suddenly we had an existence."
READ ALSO – Thom Mayne: the Beauty, the Chance and the Self
Mayne continued, "After doing a lot of remodels in Venice, the Lawrence Residence project came along and that's when everything started breaking loose for us, getting published in LA, and we became part of a group. We, as younger architects, were definitely taking over, it was a real shift in the context of architecture."
It was at this time, when he was emerging as a public figure that somehow or other, various journalists began to characterize Mayne as "an angry young man." He takes exception: "No doubt about it, I'm a complicated guy, but the bad boy description comes from, I think, a reaction to my being relentlessly tenacious and to having an independent voice. I have a long attention span, and when I grab on to something, I stick with it … I was nicknamed "pointer dog" by my former partner. If anything, I think this award, the Pritzker Prize, acknowledges the necessity to act on ones beliefs, to have the conviction of ones beliefs, and to sometimes pay whatever it costs to see the work through with integrity."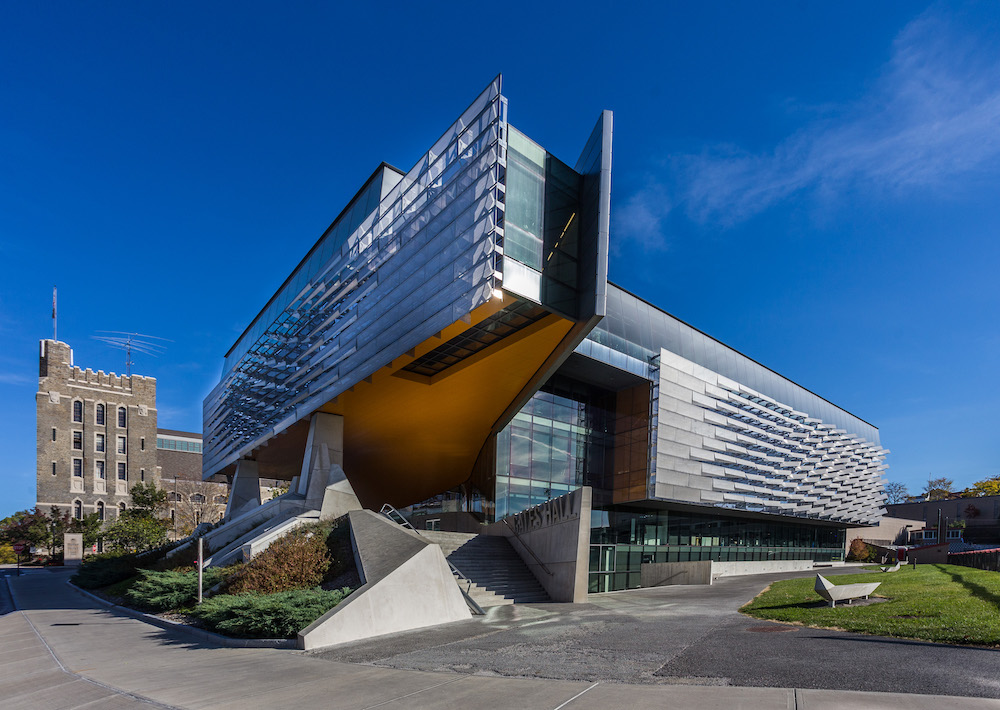 Today, Morphosis is home to fifty architects and designers, and Thom Mayne is firmly committed to the practice of architecture as a collective enterprise. Mayne elaborates, "An architect operates, finally, more as a director does than as a painter or a sculptor. They have to focus the energy of a large group of people on a common obsession. The architect has to know a little bit about everything … it's a generalist discipline not a discipline for the specialist. "Not surprisingly, the products of his practice range from designs for watches and teapots to homes to large-scale civic buildings and other urban design and planning schemes that aim to reshape entire cities.
One of his more important projects is the recently completed Caltrans District 7 Headquarters in Los Angeles. The design of this building goes beyond merely providing functional spaces. It seeks in every way to actively engage the city and people while blurring the distinction between outside and inside.
Over the years, Mayne has written some of the most erudite essays and articles describing not only his work, but the theories behind his designs.
---