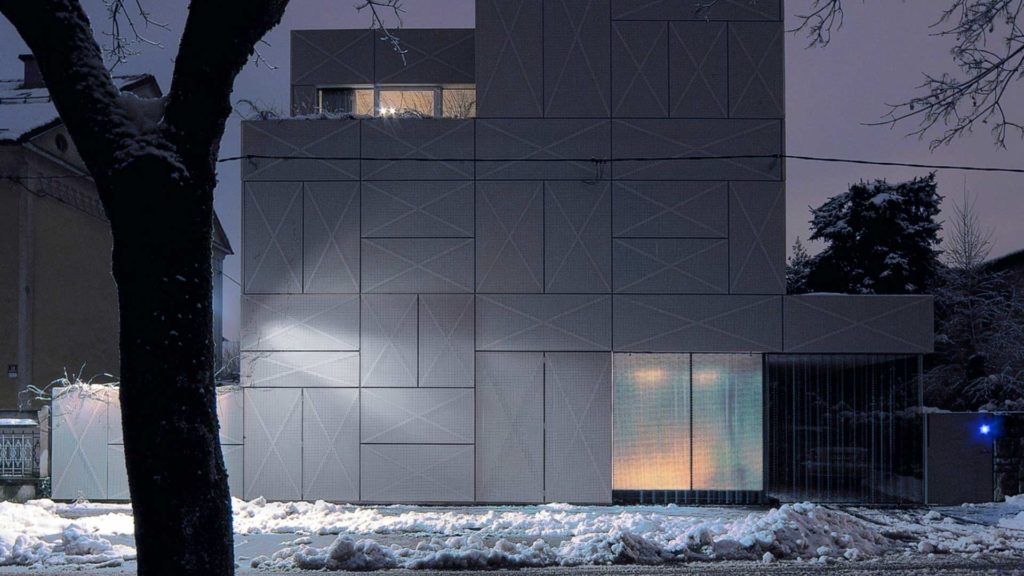 OFIS Arhitekti
Villa Criss Cross is none other than the game of tic-tac-toe: the name refers to the concept of the building's façade, which is clad in metallic panels featuring squares and crosses.
Designed by the Ofis Arhitekti practice, this single-family residence is situated in the Mirje district of Ljubljana, an area that features the remains of Roman walls dating back to the first century AD. The building stands near the stone pyramid that offers pedestrian access through the walls, which were restored by architect Jože Plečnik.
The new building incorporates a previously- existing wall at its street elevation in order to maintain its original profile along the street, and remain perfectly aligned with the pyramid.
The residence's three floors above ground form a cubic volume encased in a skin of perforated metal sheeting. This volume was dug into and recomposed to create a pyramid-shape that rises into the air, recouping space for outdoor living – terraces and patios – that are concealed and shielded by the building's metal shell.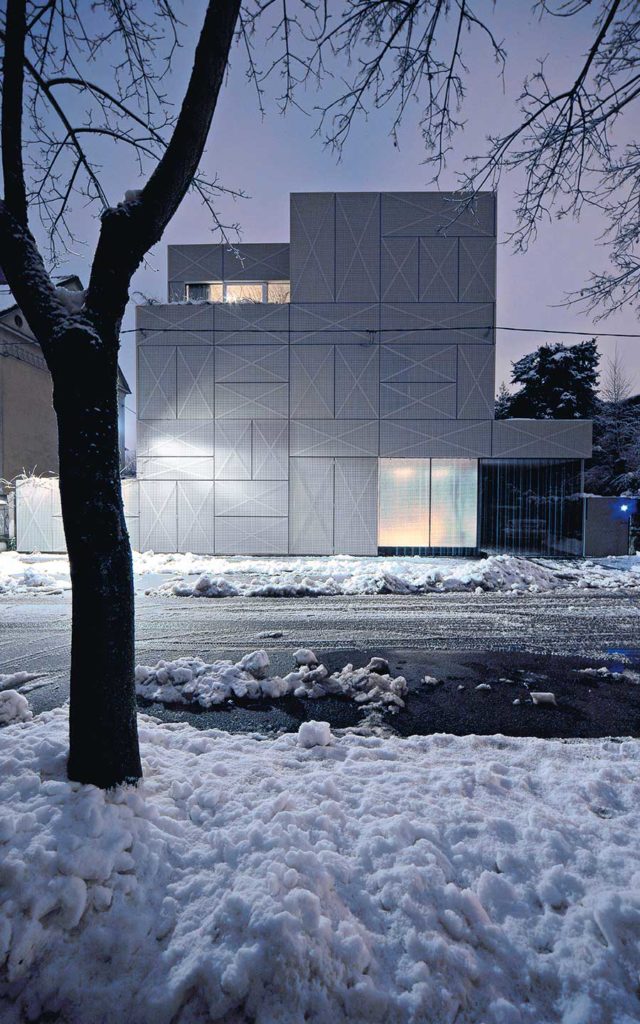 The project's hallmark feature is a skin that completely envelopes the building's volumes, concealing its windows and doors behind an interplay of metal panels. The name of the building, Villa Criss Cross, is a reference to the game of tic-tac-toe: the façade concept is based on metal panels arranged in a square, each of which is marked with a cross.
By composing and rotating these basic elements, a module was created that completely wraps around the building's height, alternating its layout in a criss-cross pattern. For the finish, to create transparency and opacity, every module was perforated using a polka-dot pattern.
This perforated texture was specifically chosen to recreate an abstract interpretation of decorative motifs on historic local buildings. A combination of two different panels generates a three-dimensional effect that adds dynamism and highlights the interplay between light and shadow, while at the same time enhancing the building's consistency and sobriety.
The crosses etched onto the panels are not just for bracing, they are a further homage to local decorative traditions. The cross-shaped pillar that supports the home around the rear patio is a further reference to the project's name.
The interior features two main elements: an open-faced reinforced concrete structure, and a wooden shell. The brutalism of concrete is counterpointed by the warm tones of wood, flowing over surfaces and walls in an unbroken continuum, in certain places transforming into furnishings such as wardrobes, bookcases and beds.
---