Penthouse One-11 CityLife
Location: Milano
Product:
Slide Tortora
Collection: Natural Genius
Architects: Zaha Hadid
Year: 2016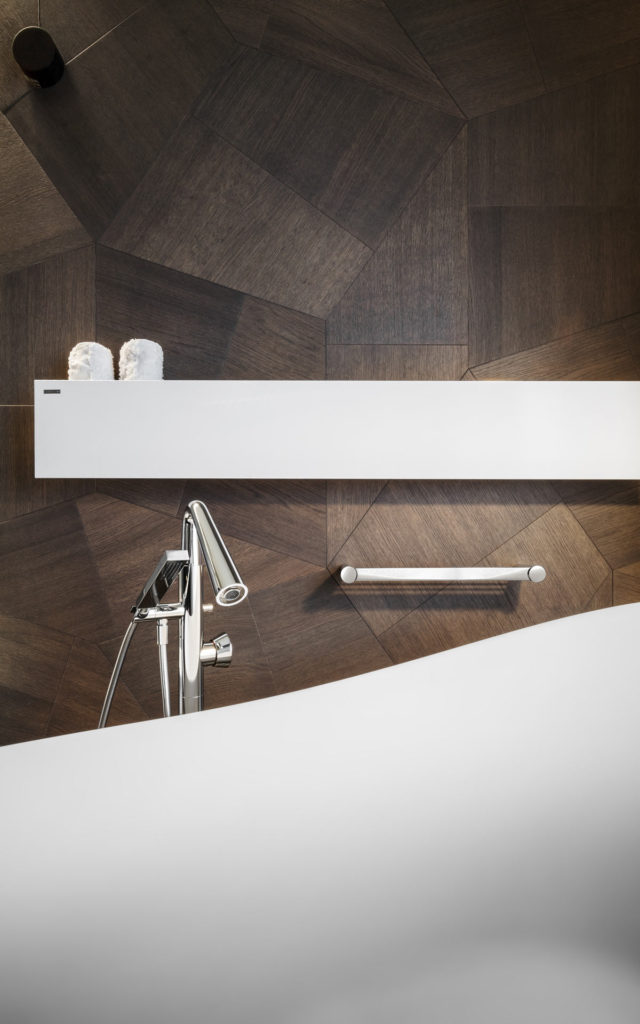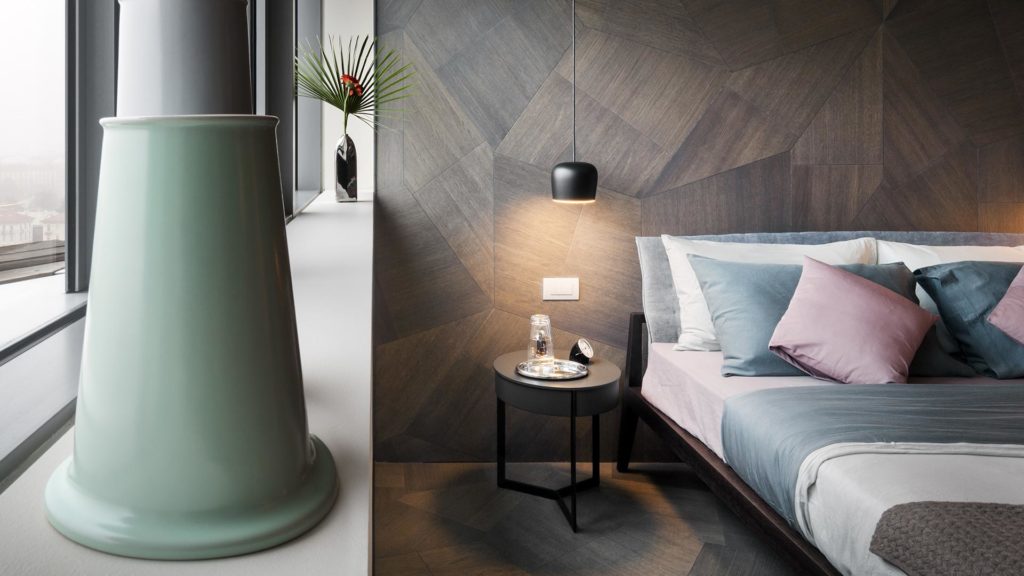 Penthouse One-11: a two-level penthouse in the heart of Milan CityLife
Milano Contract District, a strategic hub mixing together Design and Real Estate, has already proudly created numerous designated areas for the Lombardy capital in less than one year from its own launching.
Penthouse One-11 stands out among the latest: a luxury two-level penthouse of over 300 sq.m. with views of the cityscape and of the park, set into the housing estate designed by Zaha Hadid in the Milan CityLife. The apartment holds up the label of "Sensory apartment", giving voice to the "Psychology of dwelling".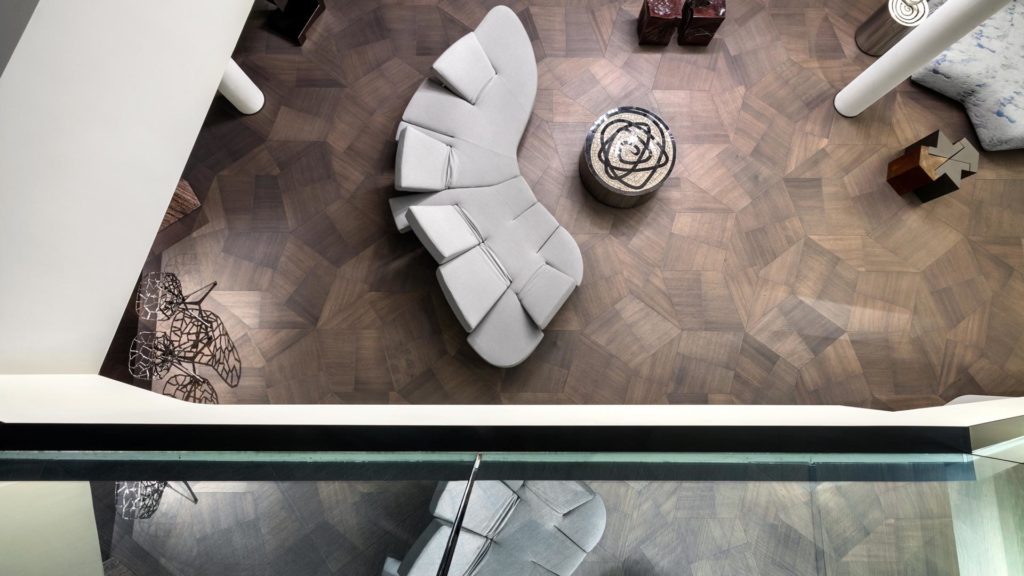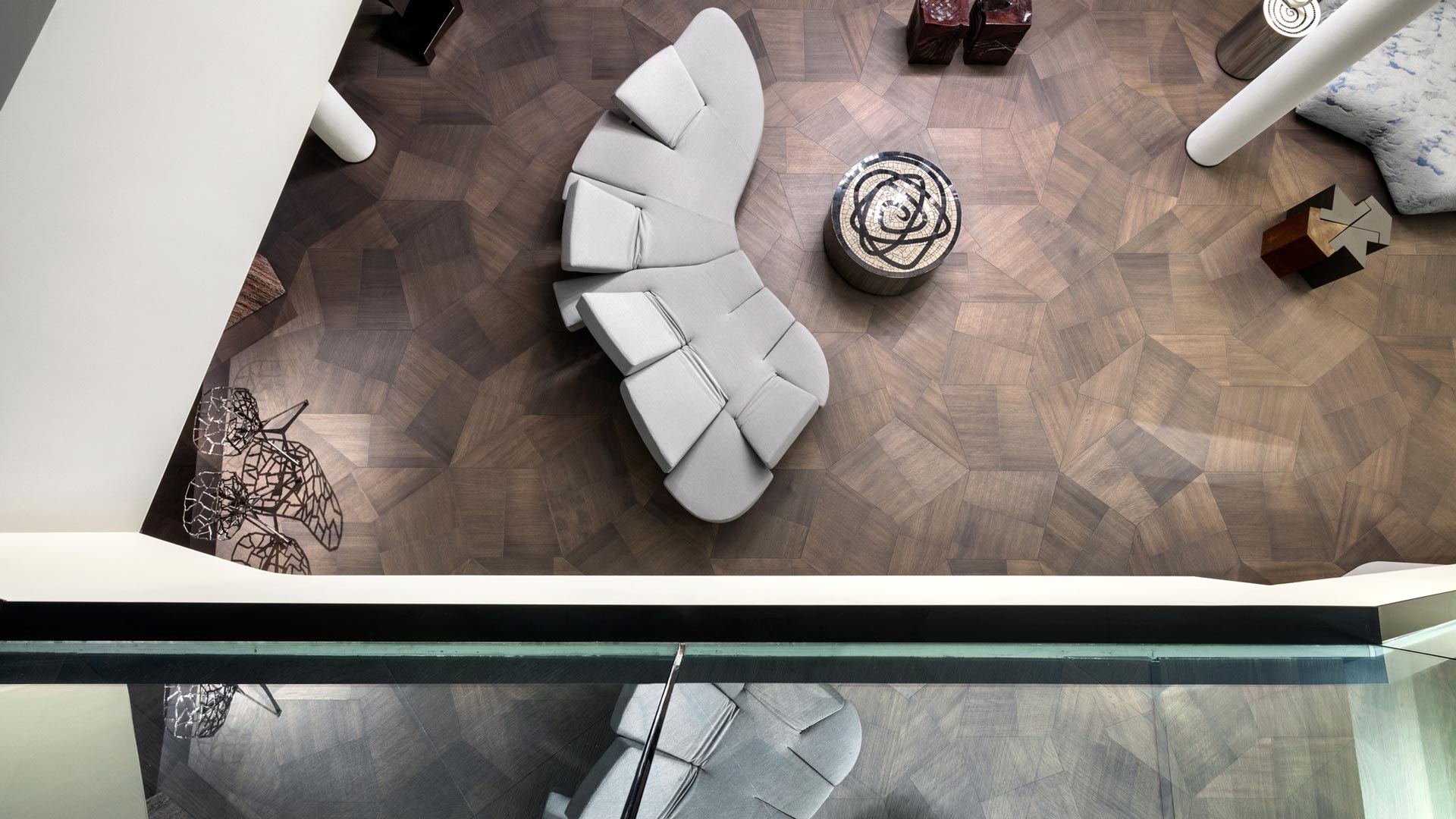 The architects from the involved project division took this work as a challenge from the very start, tied up by technological, typological, distributive and timely restraints – two months only to get the project done –. Still, the tailored strategy developed by the team made it possible to create an architectural output in line with modern market's expectations. Its concept lays on the principle of a seamless space between walls and furniture, the floors and its coverings, transparent and blind partitions, mobile and fixed separation systems, furniture's finishes and countertops' surfaces.
In this context, the interplay between surfaces, materials and light generate the place's own identity: the Natural Genius SLIDE Tortora floor designed by Daniele Lago for Listone Giordano spreads over the walls bordering the bed and the bathtub, stretching out the volume.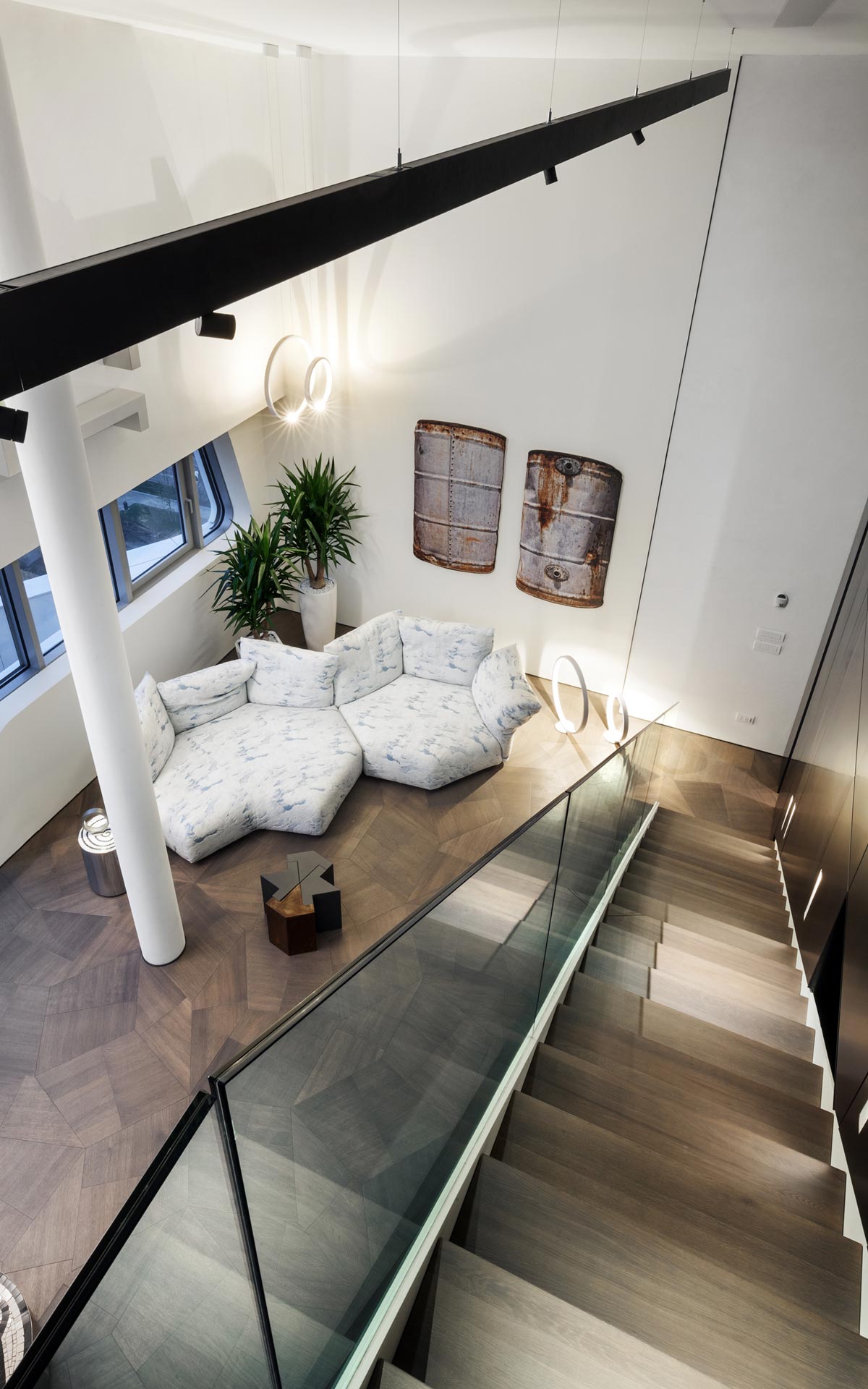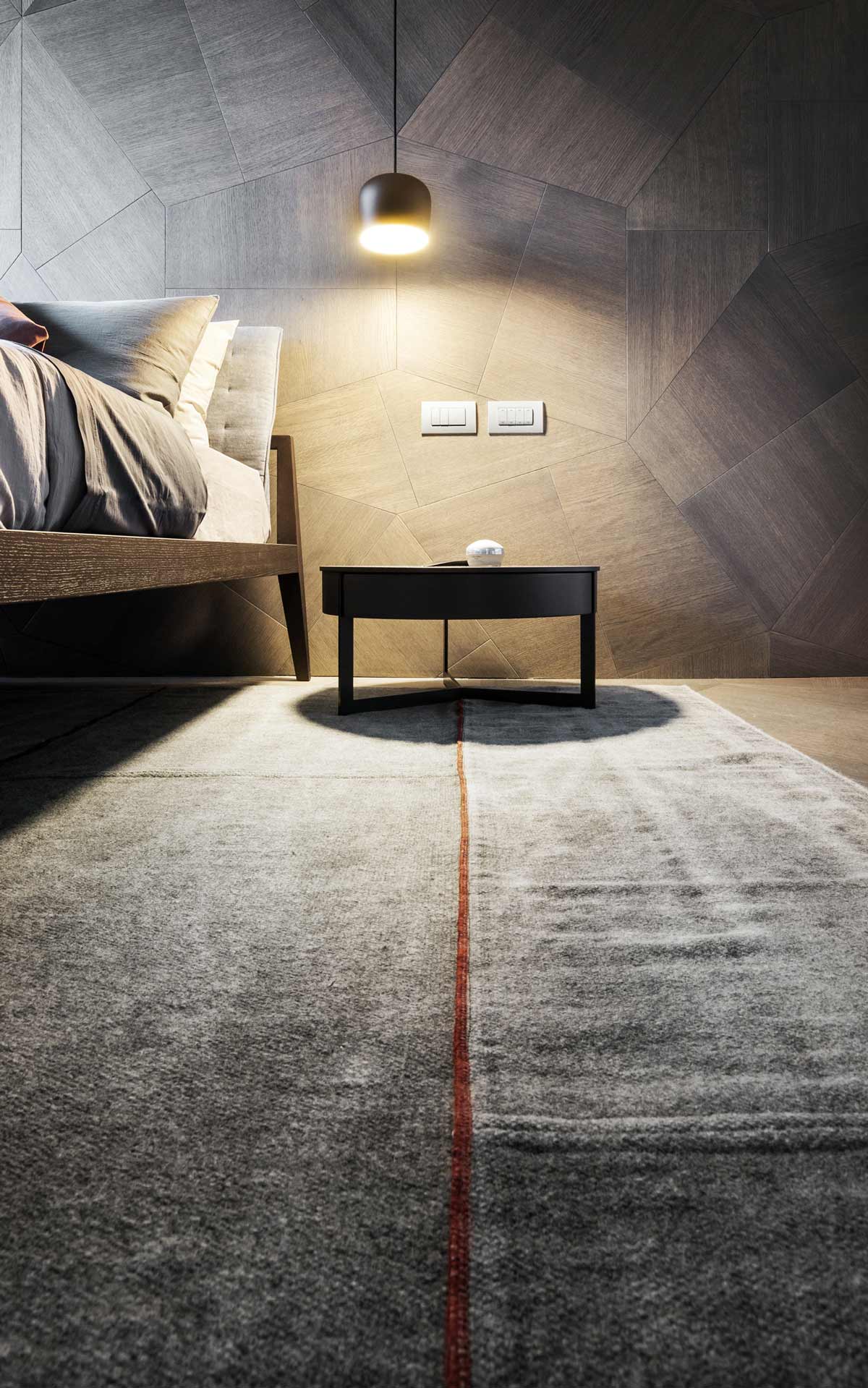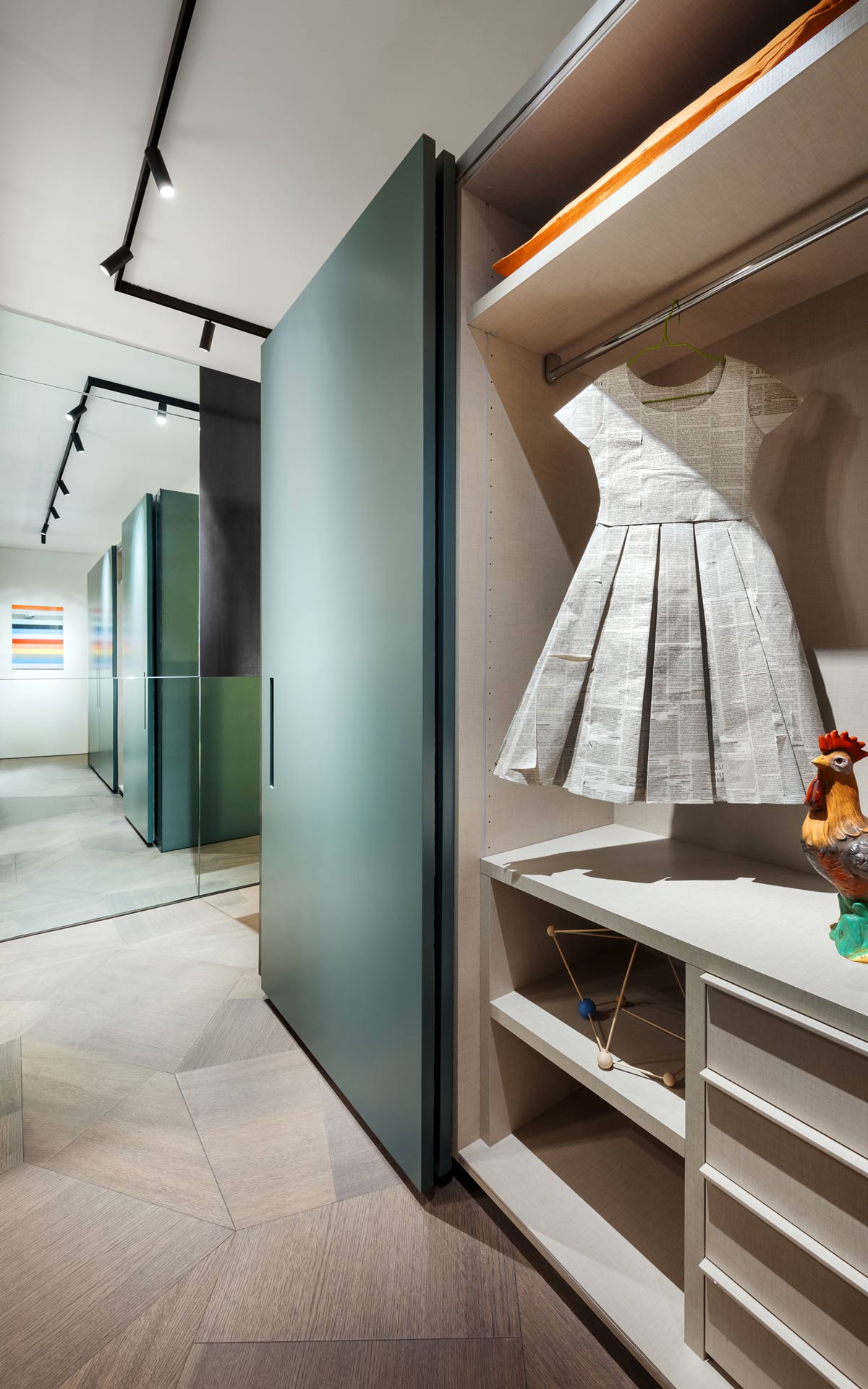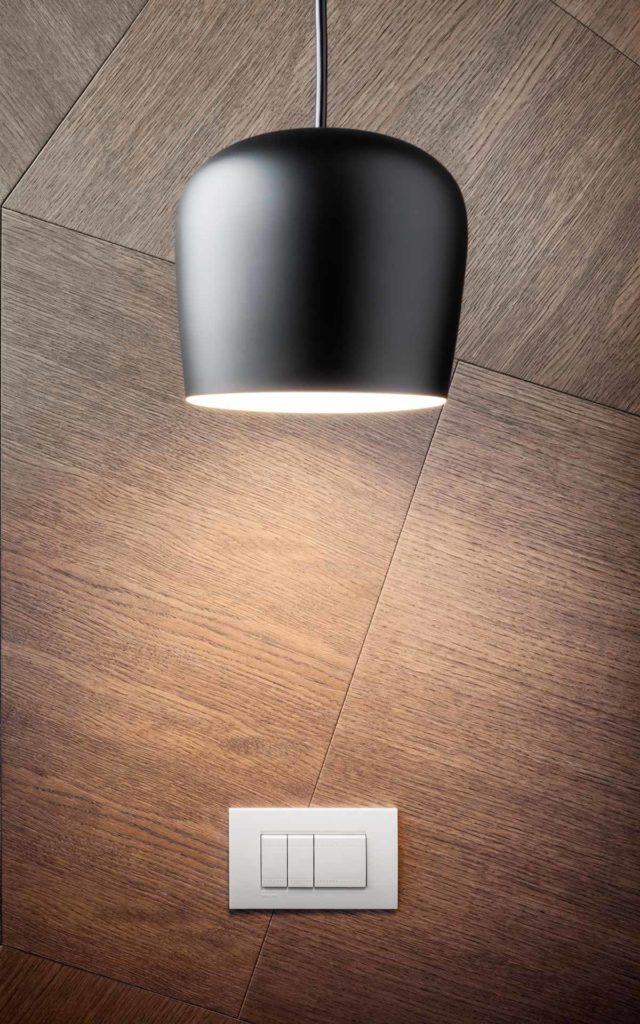 Except for the doorway and the kitchen, what set the floors apart is a single wooden finishing made with oak and dove-grey coloured. The choice of Slide Natural Genius by Listone Giordano as a unifying surface for the whole living space originates from the purpose of turning the classic parquet into a system of pavement furniture with wide ascents over the vertical walls.
The penthouse can be accessed through an open-line staircase set in the living room: Fontanot's redefinition of the actual vertical connection falls rightfully within the most qualifying interventions of the entire work. As you step on the top floor, the external view gets emphasized by a large terrace which can be accessed through a space breaking the double-height volume of the living room. This latter is equipped with a minimal kitchen – One 80 by Ernestomeda – hiding inside a partition wall that, through Lema's sliding panels, leads into the main room of this floor.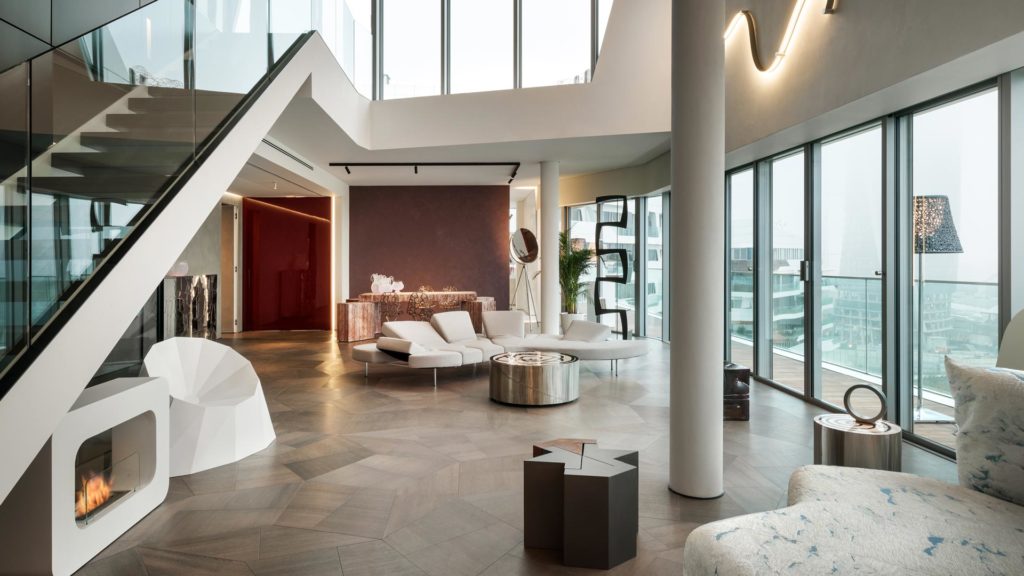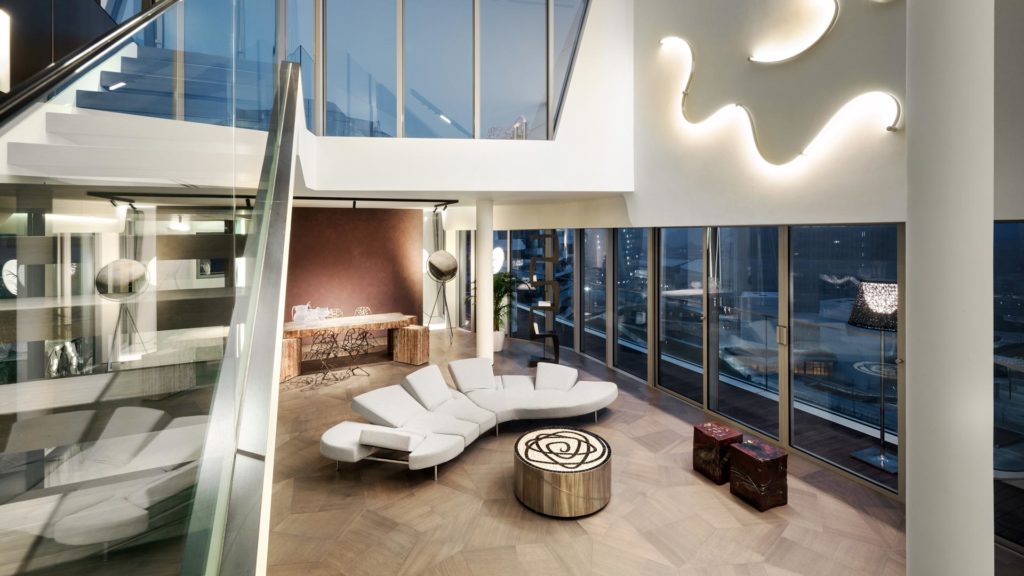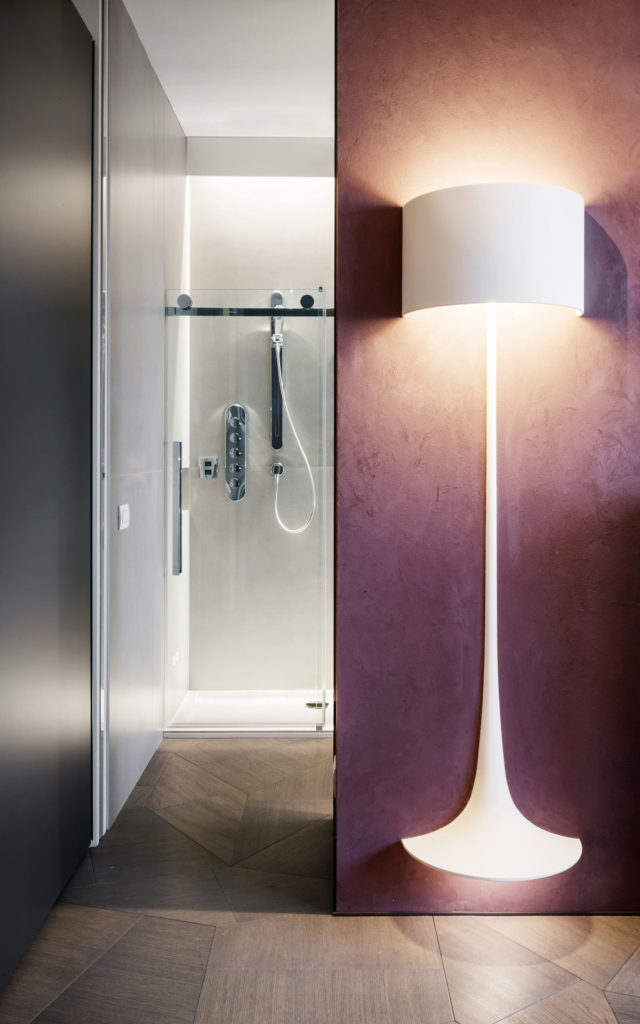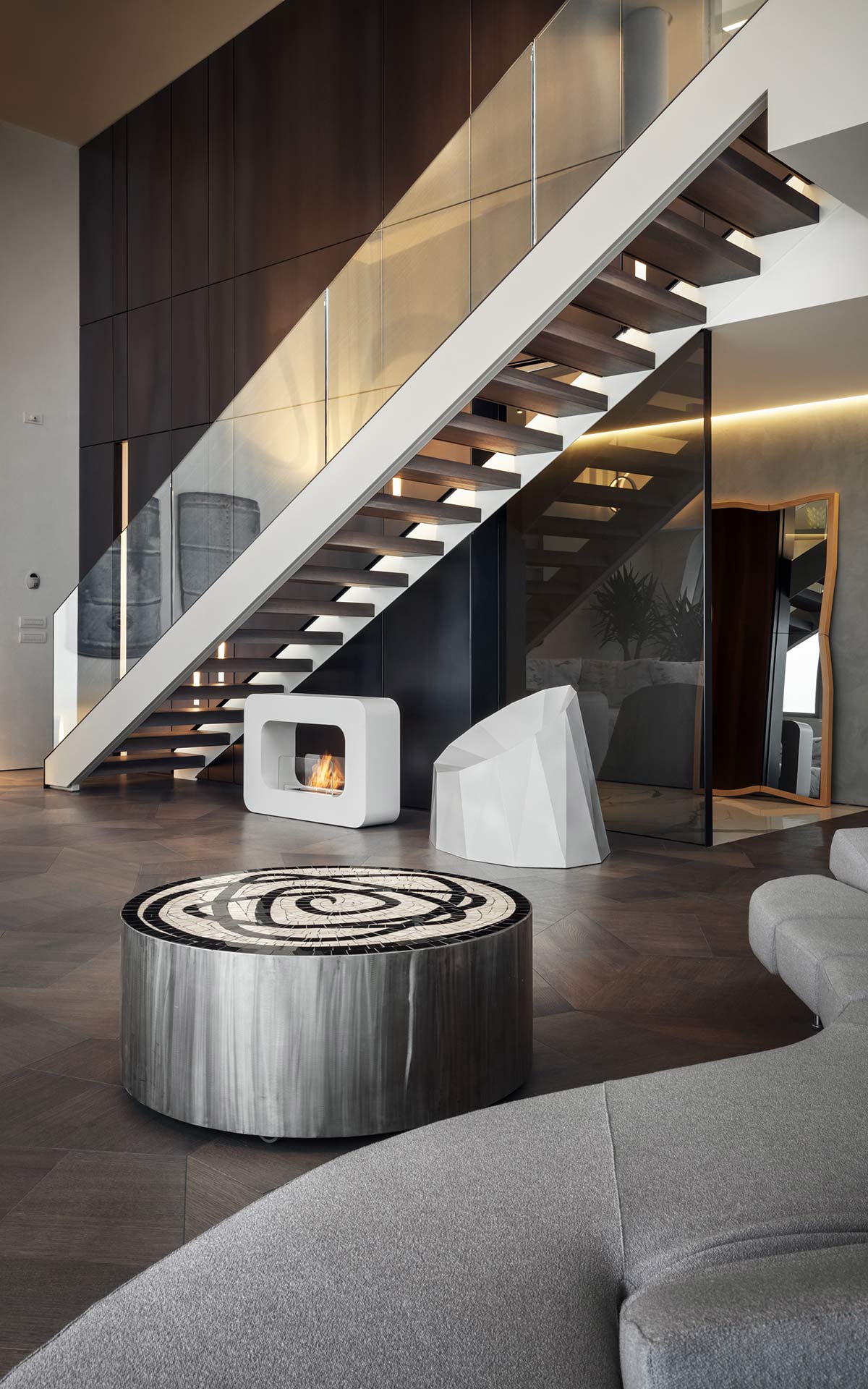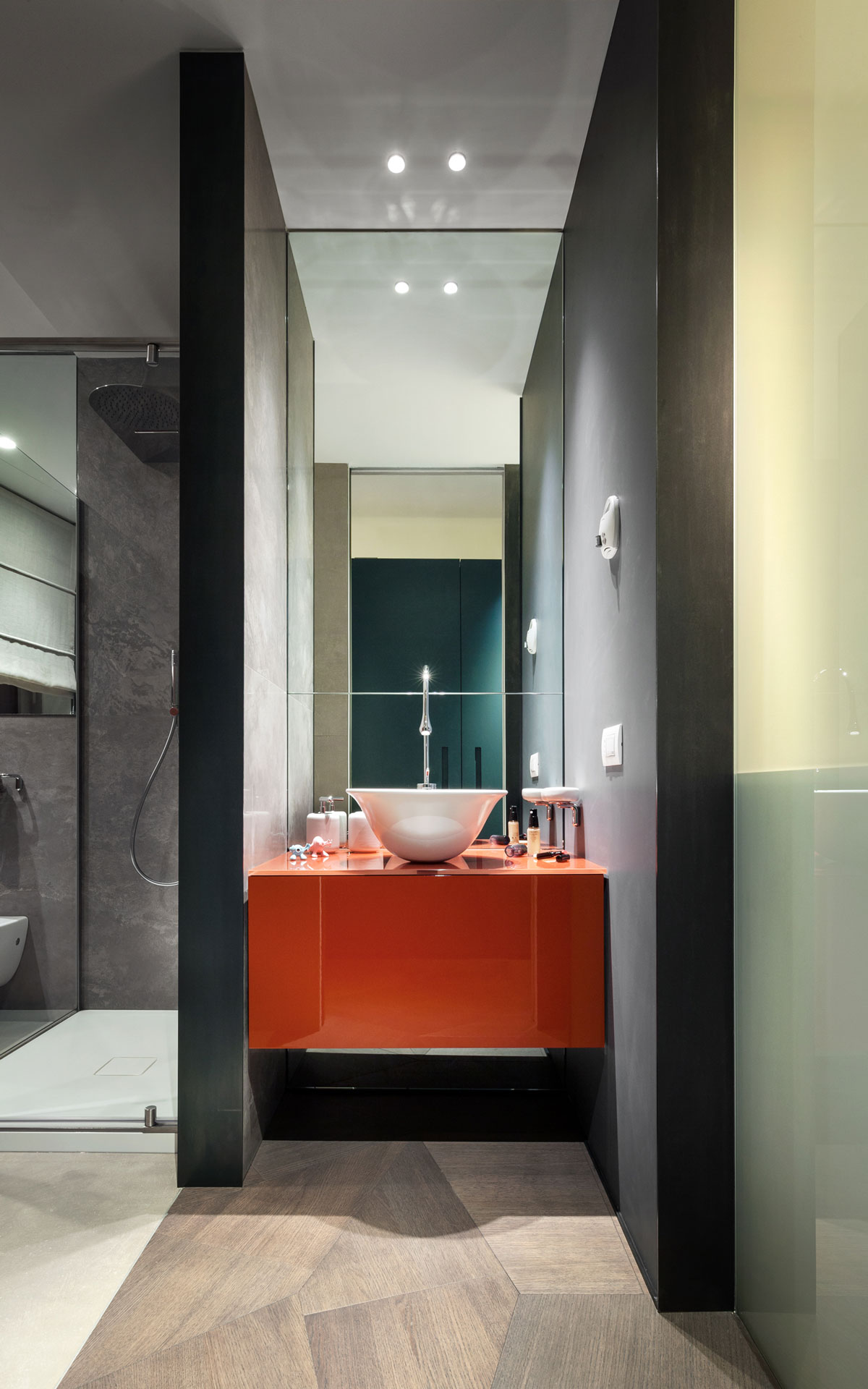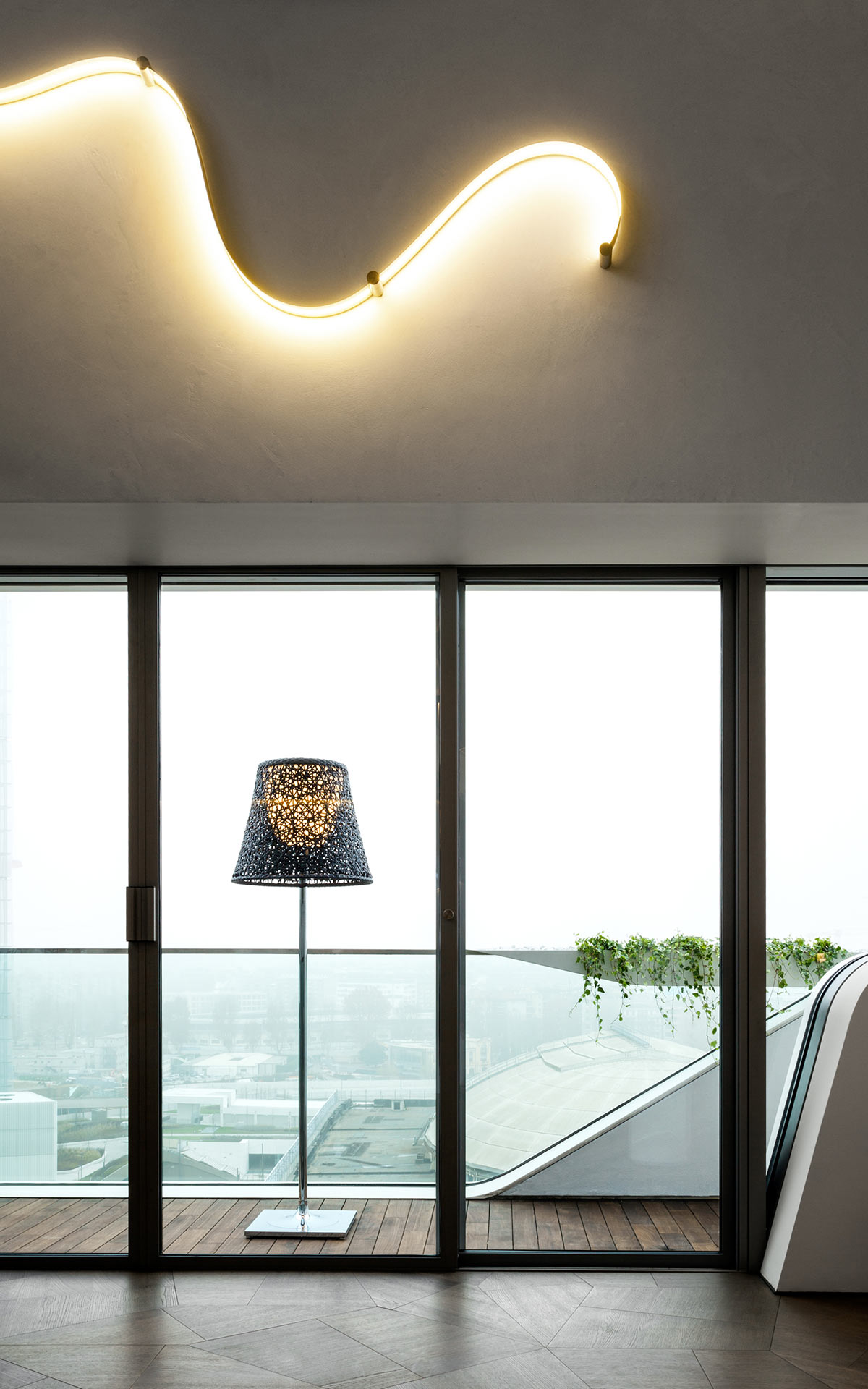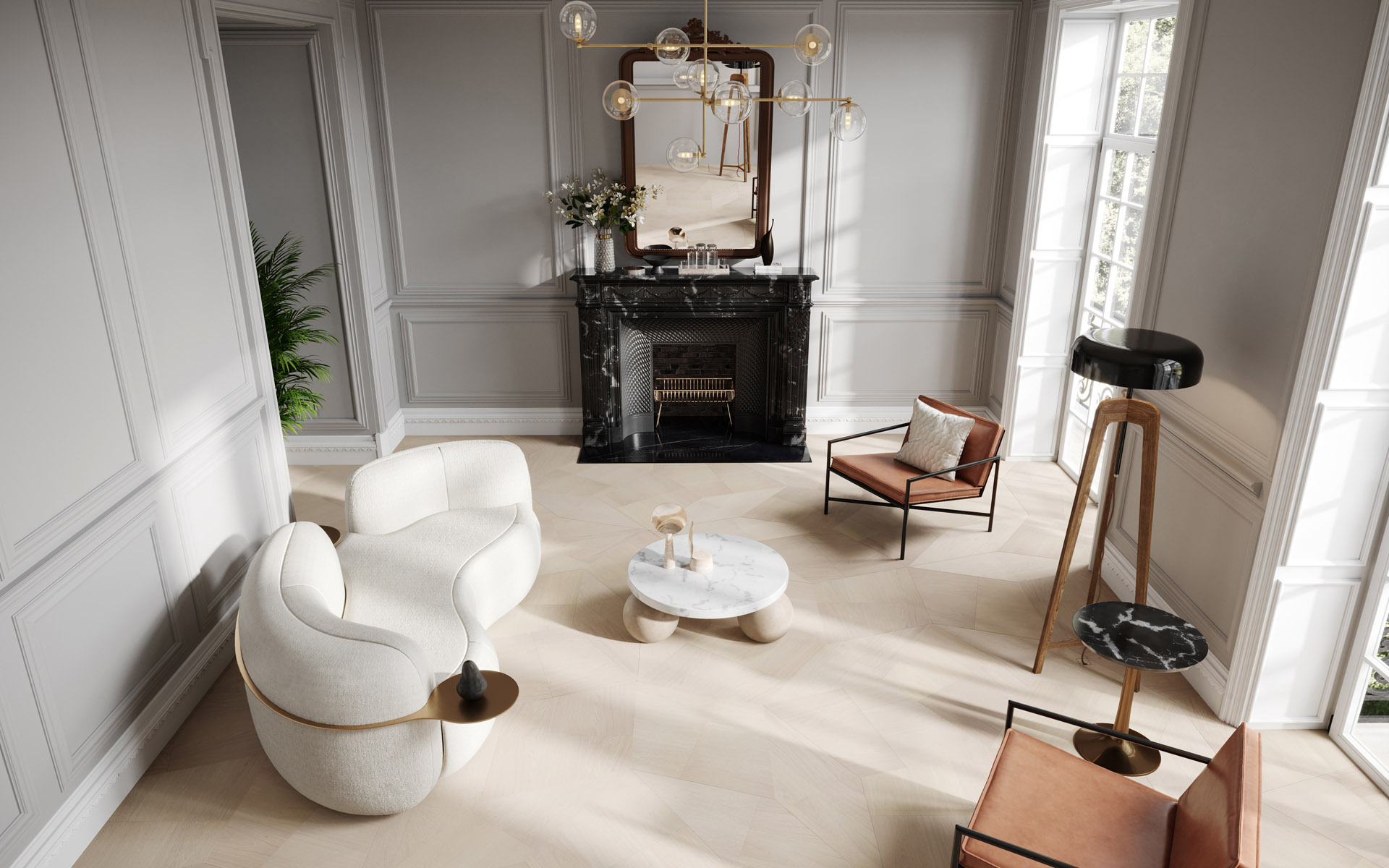 slide